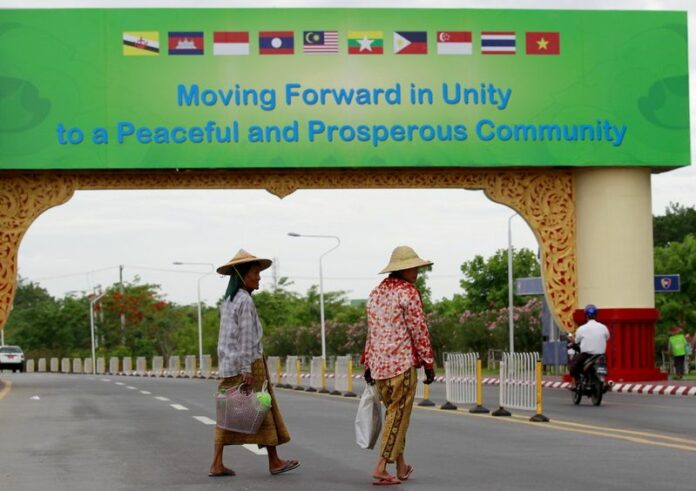 NAYPYITAW (DPA) — Myanmar officials highlighted the importance of China's peaceful rise in the region on Saturday ahead of the Association of South East Asian Nations (ASEAN) summit.
Myanmar will host Sunday for the first time since it joined the 10-nation bloc in 1997.
"China is not only a big friend of Myanmar's, but China is also the biggest trading partner of most of the ASEAN counties so China's peaceful rise is very important for the ASEAN region," said Ye Htut, a spokesman for President Thein Sein.
ASEAN summits, held twice a year, end with declarations on regional issues such as economic integration and common security concerns.
The Philippines and Vietnam are lobbying this year for a strong statement from ASEAN against aggression in the South China Sea. Several countries have territorial disputes with Beijing over sovereignty claims to the sea, petroleum reserves and rights to fishing grounds.
Myanmar, as host, will play a crucial role in determining the tone of the final ASEAN statement on China, its northern neighbour and main foreign investor.
ASEAN foreign ministers met in the capital Naypyitaw Saturday to discuss regional issues, including the South China Sea tensions, ahead of the summit.
Ye Htut described the Philippines' and Vietnam's problems with China as a matter of "bilateral relations."
China's policy has been to address its territorial disputes at the bilateral level, while the Philippines and Vietnam want a common ASEAN stance to pressure Beijing to agree to a Code of Conduct in the disputed areas.
The issue is seen as a test for ASEAN unity, in the face of China's growing political and economic clout in the region.
China was one of the few countries that stood by Myanmar when it was under military junta rule between 1988 to 2010, and propped it up during years of Western economic sanctions.
ASEAN groups Indonesia, Malaysia, Singapore, Brunei, the Philippines, Vietnam, Cambodia, Thailand, Laos and Myanmar.