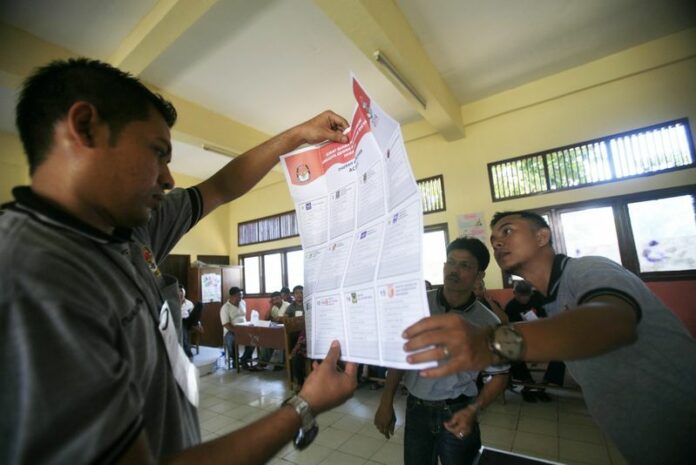 By Ahmad Pathoni (DPA)
JAKARTA — The opposition Indonesian Democratic Party of Struggle (PDI-P), led by former president Megawati Sukarnoputri, secured 19 percent of the vote in April 9 parliamentary elections, the General Election Commission said.
Golkar, the ruling party during the reign of former dictator Suharto, was second with about 15 per cent. The Gerindra Party of former military general Prabowo Subianto, who is a presidential hopeful, came in third with 12 per cent, the commission said.
PDI-P has nominated popular Jakarta Governor Joko Widodo as its candidate for the July 9 presidential election. But the party needs to form an alliance with one or more other parties, as a party or coalition of parties that must receive 25 per cent of the popular vote or 20 per cent of seats in parliament to nominate a presidential candidate.
PDI-P has struck an alliance with the National Democratic Party (NasDem), which won nearly 7 per cent of the vote but is still trying to woo other parties to broaden its support base.
Surveys before the parliamentary elections indicated Widodo would win the presidency by a landslide, with his popularity ratings more than double those of his closest rival, Subianto.
Widodo, a heavy metal fan and former furniture retailer, rose to political prominence as mayor of Solo in Central Java province, where he introduced a series of policies including free health care and education.
Widodo won the Jakarta gubernatorial election in 2012 and has since built a reputation as a capable and hands-on leader with a common touch, through his frequent visits to the capital's poor neighbourhoods.
President Susilo Bambang Yudhoyono's Democratic Party, which leads the ruling coalition, was at 10 per cent in the official vote tally, a sharp drop from 21 per cent in 2009 elections.
Yudhoyono cannot run again after two terms in office, and his party has been embroiled in corruption scandals involving senior members.