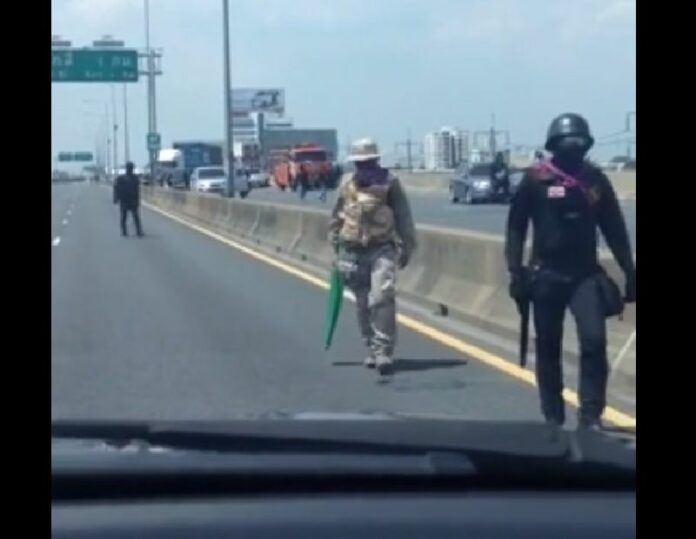 BANGKOK — A motorist says he was attacked by a group of anti-government protest guards during their brief occupation of the Uttrapimuk-Don Muang Tollway in Bangkok today.
Viphavadee Road and its elevated toll way were shut down by supporters of the People's Committee for Absolute Democracy With the King As Head of State (PCAD) while they clashed with police at the Police Sports Club this afternoon.
During the PCAD demonstration at the Police Sports Club nearby, masked "guards" wearing bullet-proof jackets manned the expressway to regulate traffic. Videos posted on social media show the guards threatening commuters not to drive past their checkpoint without permission.
One motorist told Khaosod that he was driving to Don Mueang Airport with his girlfriend when PCAD guards forced him to park his car on the right lane of the toll way.
According to Mr. Sorasak, who requested to be identified only by his surname for fear of retaliation by PCAD supporters, a group of masked PCAD guards approached his vehicle and ordered him to roll down the window. When he refused, one of the guards broke the windshield with a handgun and and another repeatedly punched him in the face until he fell unconscious, Mr. Sorasak reported.
The assault on Mr. Sorasak was captured on video by another motorist, who later posted the video clip of the incident on Facebook.
Mr. Sorasak, who was reportedly sent to Viphavadee Hospital to treat injuries from the assault, said his mother has filed formal complaints with Thoong Song Hong Police; Mr. Sorasak explained that he could not file the complaints himself as the doctors have not permitted him to leave the hospital.
Pol.Cpt. Anuchit Chartchuliam, a police officer at Thoong Song Hong Police Station, told Khaosod that Mr. Sorasak's family have filed charge yesterday, and the police are now investigating the incident.
PCAD guards have a record of physically assaulting random bystanders, despite PCAD leaders' insistence that they have intensified discipline training for their guards. Some PCAD guards also carry firearms.
Last month a group of PCAD guards beat and shot an army colonel after he attempted to remove traffic cones placed by PCAD protesters on Chaeng Wattana Road. PCAD core leader Buddha Issara later apologised to the Royal Thai Army, claiming that the colonel was assaulted because of a "misunderstanding."
For comments, or corrections to this article please contact: [email protected]
You can also find Khaosod English on Twitter and Facebook
http://twitter.com/KhaosodEnglish
http://www.facebook.com/KhaosodEnglish