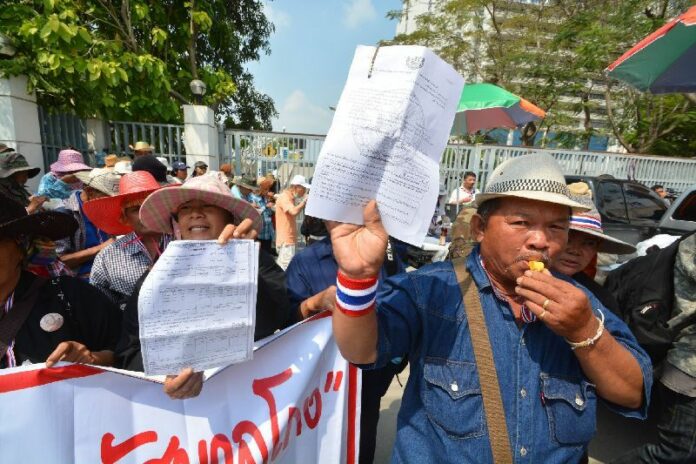 BANGKOK — Farmers who are still waiting to be paid for participating in the government's rice-pledging program will be forced to wait even longer now that the country lacks a Finance Minister, a government official said.
The former Minister of Finance, Kittirat Na Ranong, was ousted alongside ex- Prime Minister Yingluck Shinawatra and eight other Ministers on Wednesday after the Constitutional Court found them guilty of unlawfully transferring the head of the National Security Council (NSC) in 2011.
The Cabinet post has yet to be filled, which means there is currently no one with the authority to approve payment of the 5 billion baht owed to rice farmers who sold paddies to the government under its rice mortgage scheme, said Manas Chaemweha, director of the Comptroller General Department (CGD).
According to Mr. Manas, budget regulations require that any state expenditure of more than 500 million baht be personally approved by the Minister of Finance.
The payment to the farmers must be paid by 31 May, Mr. Manas added.
Earlier this year, thousands of farmers marched to Bangkok after the government failed to pay them on schedule.
The costly rice subsidy scheme, in which the government bought rice from farmers at almost twice the market price, has caused huge financial losses for the government and incurred harsh criticism from a number of financial experts.
In addition, Thailand's anti-graft agency indicted Ms. Yingluck yesterday for failing to stop the widespread corruption that purportedly plagued the program. The Senate may now use the case as grounds to impeach Ms. Yingluck and ban her from political office for five years.
Of the 20 billion baht owed to farmers, 15 billion has already been paid, and the last 5 billion baht is waiting for official approval, Mr. Manas said.
Mr. Manas said the Deputy Minister of Finance may be able to sign the payment order on behalf of the absent Minister of Finance, although this could entail legal complications.
Apart from the rice payments, the government also needs to approve money to repair damages caused by the recent earthquake in Chiang Rai province, Mr. Manas said.
According to the Director of the Department of Foreign Trade, Surasak Riangkuea, the massive stocks of rice accumulated by the government are being "steadily" sold off to foreign buyers.
Mr. Surasak claimed that many foreign countries are pursuing contracts with the Thai government because they are aware that the price of Thai rice has fallen sharply over the past few months.
"It's a good opportunity for Thai rice," Mr. Surasak said, "I am confident that at least 8-10 million tons of Thai rice will be exported throughout this year."
For comments, or corrections to this article please contact: [email protected]
You can also find Khaosod English on Twitter and Facebook
http://twitter.com/KhaosodEnglish
http://www.facebook.com/KhaosodEnglish