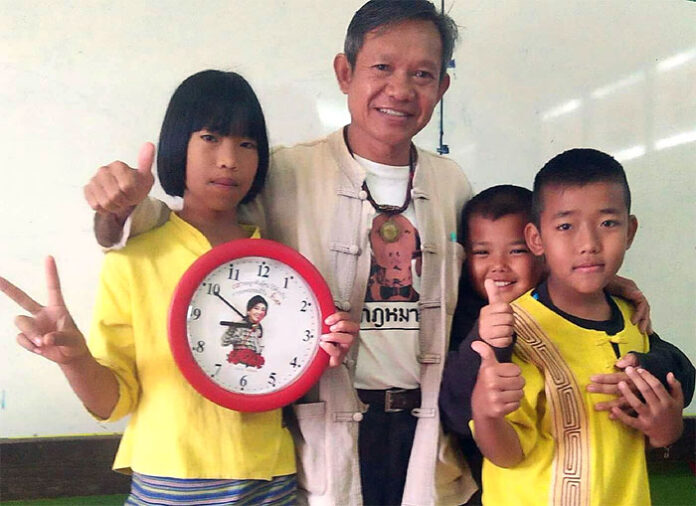 BANGKOK — That absence makes the heart grow fonder is a cliche loyal supporters of fugitive former premier Yingluck Shinawatra hope will deliver political capital should she re-emerge to play a political role from exile.
Take Redshirt activist Anurak Jeantawanich, or Ford Red Path, who ordered custom quartz clocks bearing a photo of Yingluck waving.
"Time will bind people together. Our waiting will end," reads a message printed on the red-framed clock.
As days drag into weeks without a word from the former premier, supporters say they don't expect to hear anything from Yingluck until after Sept. 27, when the verdict concerning her malfeasance trial is read – which will also mark one month since she vanished instead of appearing to hear it in person.
In the meantime, authorities – who recently said they had indices of Yingluck having taken a vehicle to the Cambodian border on Aug. 23 – continue their attempt to piece together the sequence of events.
Her absence wasn't public knowledge until Aug. 25 when she failed to show up for a closely watched court appearance to hear the verdict after weeks of hand-wringing by the authorities over her supporters' reaction to a guilty verdict.
Yingluck – who until then hadn't missed a court appearance in over two years – was gone. She left without her 15-year-old son Supasek Amornchat, who was often in his mother's company.
While many of Yingluck's detractors would have preferred to see her behind bars in Thailand, loyal supporters such as Anurak maintain unwavering devotion. He had 100 Yingluck clocks made two weeks ago and said he had sold 70 of them for 499 baht a piece. He said 10 percent of the profits were donated to assist political prisoners.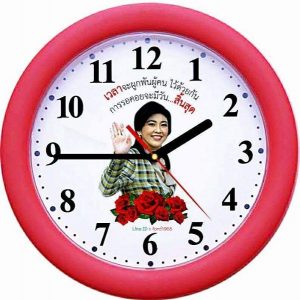 "These clocks are but one of the things I made to make my love and longing tangible," Anurak said. "I wanted to make something that would link Prime Minister Yingluck and people's wait … This clock is like a countdown… She's a uniting figure for those who love democracy and no matter where she resides, she will continue to be loved."
Anurak predicts that if the Supreme Court finds Yingluck not guilty on Sept. 27, she will return to Thailand a heroine. If she's found guilty, he believes Yingluck will continue to play a political role in exile – like her older brother, also a fugitive former premier, Thaksin Shinawatra. "There's no way Redshirts would forget these two beloved people."
Panupong Sritananuwat, a member of the Dao Din group of community activists, is no particular fan of Yingluck but doesn't believe she will retreat into obscurity.
"I think she will continue play a role because when she was in Thailand, she represented Thaksin, and her political base still holds her dear. Her political base is still there and she will continue to play a role," Panupong said. "What's more, her political base still believes that she wasn't tried fairly."
But not all were convinced Yingluck would have any role to play if she remains in exile.
"It's enough to have Thaksin [politically active in exile]. With this pair, to have Thaksin is enough," said pro-democracy Redshirt activist Sombat Boonngam-anong.
Where Yingluck has been silent, Thaksin did end a two-year Twitter hiatus late last month, with a thinly veiled critique of the junta and the justice system.
Sombat doesn't see Yingluck as a natural politician but more of a businesswomen enlisted as a surrogate for her brother.
"She may say something after Sept. 27. Until then, she will be busy shopping, dining and praying," said Sombat, adding that it shouldn't be difficult for Thaksin and the Pheu Thai Party to find another surrogate.
A senior Pheu Thai source said that Yingluck was unlikely to speak up until after the verdict is read.
While speculation has mounted over who will succeed her, the source, who asked to remain anonymous due to the sensitivity of the issue, said discussion of a successor won't be entertained until after Sept. 27, or possibly after the royal cremation of the late King Bhumibol in October.
Also slow-walking speculation is junta deputy leader Gen. Prawit Wongsuwan. Prawit on Sunday said intelligence that Yingluck had fled by car across the Thai-Cambodian border could not yet be confirmed. In the face of reports she was seen in a vehicle on Aug. 23 in Sa Kaeo province near the border, Prawit asked for more time for facts to emerge.
Others such as former spokesman of Redshirt umbrella group United Front for Democracy Against Dictatorship say they hope Yingluck will play a role in exile.
"It's still unclear. But [Yingluck] in exile is actually more of a threat than from behind bars," Sean Boonpracong said. "She will have a political role, even if it's done in her style."
Chamnan Chanruang, a Chiang Mai-based human rights activist, said Yingluck might have faded away before Twitter, Facebook and Instagram.
"With social media, Yingluck will play a supporting role to Thaksin. Maybe not as a leader by herself, but to fill what's missing in Thaksin – the soft touch," Chamnan said.
He noted that Yingluck doesn't have the stigma that stains her brother when it comes to human rights violations such as his violent war on drugs.
"Even though she has fled, those who root for her will continue to do so," Chamnan said.
Some anonymous sources have said Yingluck is seeking political asylum in the United Kingdom but the British Embassy in Bangkok has declined to comment.
Chamnan said asylum status would be a blow to the military regime in terms of perceived lack of legitimacy.
For Anurak, his Facebook page is covered with photos of Yingluck surrounded by admirers. Asked if he misses Yingluck, Anurak replied: "Very much. Even in my sleep."
Related stories:
Shinawatras Break Silence, Thaksin Called Out for Hypocrisy