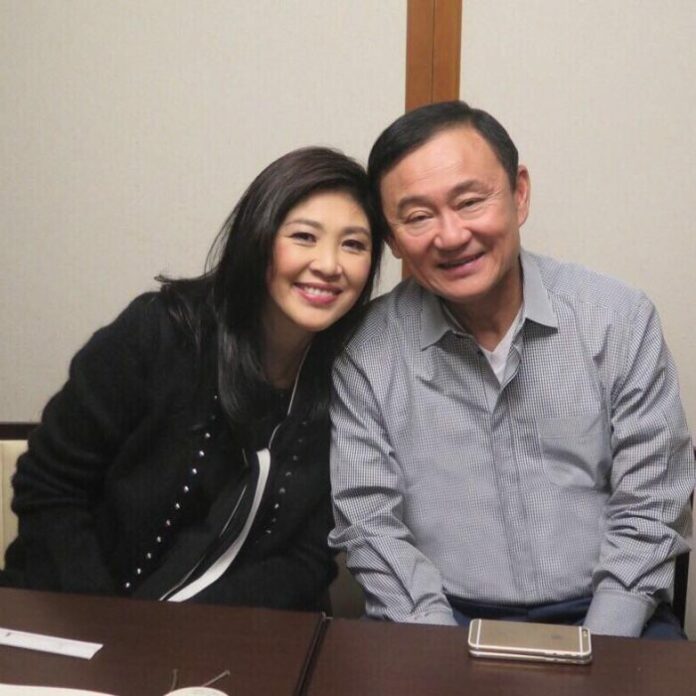 BANGKOK — When the Shinawatras spoke out a week after their former premiere vanished without explanation, it wasn't from the one the public expected to hear from.
Instead of Yingluck Shinawatra, it was Thaksin Shinawatra who broke the silence after his younger sister apparently fled the country last week, returning to Twitter after two years to attack the powers that be in Thailand.
"Montesquieu once said 'There is no crueler tyranny than that which is perpetuated under the shield of law and in the name of the justice,'" Thaksin tweeted in both English and Thai. Wednesday, ending a hiatus that began in August 2015.
While Thaksin loyalists cheered the billionaire former premier's tweet-assault, interpreting it as an attack on the junta and Thai justice system, some human rights activists were unimpressed and said they smelled hypocrisy.
Some interpreted Thaksin's tweet as a defense of Yingluck's decision to flee the kingdom rather than appear to hear the verdict in her trial for alleged dereliction of duty over a graft-plagued agricultural subsidy.
มงแต็สกีเยอ เคยกล่าว "ไม่มีความเลวร้ายใด ที่จะยิ่งไปกว่าความเลวร้ายที่ได้กระทำโดยอาศัยอำนาจตามกฎหมายหรือในนามของกระบวนการยุติธรรม"

— Thaksin Shinawatra (@ThaksinLive) August 30, 2017
His English message was retweeted more than 1,500 times while the Thai version was retweeted more than 8,700 times.
While junta-leader-cum-Prime Minister Prayuth Chan-ocha said Thaksin should be ignored and cast doubt on the efficacy of his tweets, some human rights activists – who support neither the junta nor Thaksin – were scathing in their criticism, citing examples of his own excesses when in power.
"Why cite Montesquieu? When you were in power you never behaved in a way that respected those principles …," Human Rights Watch's Sunai Phasuk wrote on Facebook.
Facebook user Ekkarin Tuansiri wrote that the Deep South is still suffering from Thaksin's decisions, 12 years after he imposed a state of emergency in the southernmost provinces.
"Quite a few people in the three provinces have been affected. The evil of the state of emergency law is that it gives power to security forces and soldiers to arrest suspects right away …," Ekkarin wrote. The decree remains in effect.
On Thursday, Rights activist Pimsiri Petchnamrob cited Thaksin's infamous war on drugs made why his tweets hypocritical, referring to state-sanctioned violence which killed more than 2,500 people without due process, a violent period which made "extrajudicial execution" a familiar euphemism in Thailand.
Other examples cited of Thaksin's own autocratic tendencies were the forced disappearance of human rights lawyer Somchai Neelapaijit in 2004 and the failed Pheu Thai attempt in 2013 to pass an amnesty bill. Instead of paving the way for his return, the bill provoked a furious reaction that escalated into the unseating of Yingluck's government in 2014 by Prayuth.
มงแต็สกีเยอ เคยกล่าว "ไม่มีความเลวร้ายใด ที่จะยิ่งไปกว่าความเลวร้ายที่ได้กระทำโดยอาศัยอำนาจตามกฎหมายหรือในนามของกระบวนการยุติธรรม"

— Thaksin Shinawatra (@ThaksinLive) August 30, 2017