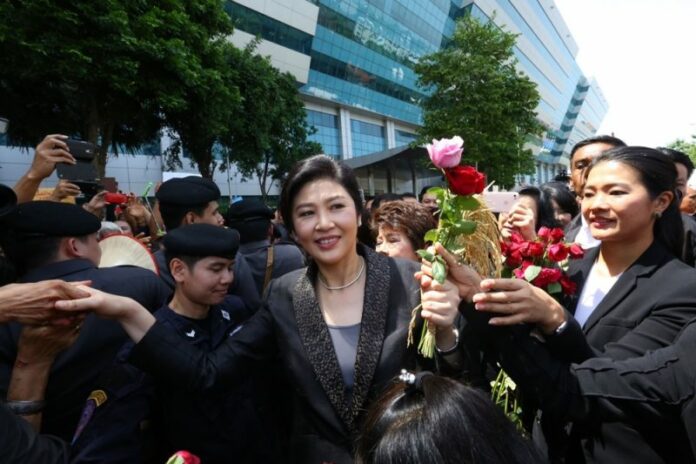 BANGKOK — Supporters of fugitive former Prime Minister Yingluck Shinawatra on Friday flooded Facebook with messages of sympathy and relief after learning that their idol had fled the kingdom.
Many took to social media and voiced their opinions, saying it's good that the former premier fled instead of facing a jail term. They perceived the justice process against her on the controversial rice-pledging case as questionable at a time when the military regime hold absolute power.
"I am glad that Yingluck traveled out of the country. (I don't use the word "fled" because she could only travel if someone opened the way for her to travel)," wrote Facebook user Chotiyaworakul Kriangsak on Friday, in a reference to a conspiracy theory that elements within the ruling junta must have facilitated her departure.
Chotiyaworakul continued the post by stating that what Yingluck was facing was a games with no rules – or at least rules set by the junta which staged the coup to oust the Pheu Thai government in 2014.
"I wish her the best of luck," the user concluded.
"Happy for PM Yingluck. We lose to win," wrote Facebook user Sarawuth Kulomtupot on Friday.
"I support [the decision] for Yingluck to flee. We should stop this superhero expectation," wrote another Facebook user Phinitnan Chanasabaeng.
"As a victim of political actions by the military dictatorship, Yingluck has done nothing wrong," declared Laos-based fugitive political dissident Nithiwat Wannasiri.
"We must wait until PM Yingluck obtains asylum seeker status so she can reveal herself," wrote Prakid Tuypien.
Very few expressed disappointment, however.
"I am very disappointed. It felt as if I had been fooled," wrote prominent US-based exile journalist Jom Petchpradab who added that both Yingluck and the Pheu Thai party are his hope for the fight for justice and democracy in Thailand.
Jom said he had to admit that he dwelled in idealism too much and said in the end that he understood Yingluck's decision to flee, however.
"She had carried the burden of expectations from the masses who love democracy and must lead a life under tremendous pressure beyond what people like me could ever gauge and understand." The Facebook post had earned 3,500 likes and had been shared 430 times as of Saturday afternoon.
Jittra Cotchade, a Thai activist based in Sweden called for Yingluck to clear the air, at least by her lawyers – who claimed on Friday that they knew nothing about her decision to flee.
"If she couldn't come to hear the verdict because she couldn't accept the justice process, she should have let her lawyers state this clearly in front of the court…," she wrote. Yingluck now faces an arrest warrant and the Supreme Court has re-scheduled th reading of her verdict to Sept. 27.
Not all were convinced that Yingluck is now safe, however. Facebook user Sarawut Bamrungkittikhun said he would only believe that she's safe when he saw Yingluck post something on her Facebook account or address her supporters through Facebook Live.