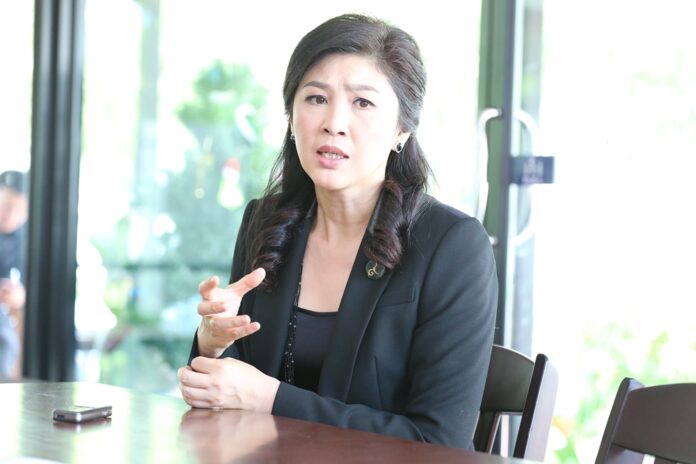 BANGKOK — Four passports belonging to fugitive former premier Yingluck Shinawatra have been revoked, a deputy police chief announced Monday.
Gen. Srivara Ransibramanakul said he was been informed by the Foreign Ministry that two of the four documents were diplomatic passports. The move came as a result of Yingluck failing to appeal her conviction in absentia one month ago for malfeasance.
The passage of that deadline on Friday means that barring a legal reversal or her return to Thailand, Yingluck will remain a fugitive for the rest of her days.
A lawyer for the former premier said he had not received any instructions from his client by the deadline. A new law covering political crimes dictates that her conviction and sentence will remain in place for perpetuity.
Attorney Norawit Lalaeng said she did not file an appeal because he hadn't heard from 50-year-old Yingluck since she apparently fled the country in late August.
Speaking Monday, he added that his work as Yingluck's lawyer was now over. Norawit said he has been unable to reach Yingluck since Aug. 25, the day she was originally expected to hear the verdict in her malfeasance trial at the Supreme Court's Division for Political Office Holders.
That verdict was postponed to Sept. 27, at which time she was sentenced in absentia to five years in prison for failing to combat corruption in one of her government's signature policies, an agricultural subsidy that guaranteed prices to rice farmers, as well as a bogus government-to-government rice deal with China.
Asked about Yingluck's passports, Norawit declined to comment.
Surasak Trirattrakoon, deputy head of the Attorney General's working group on the case, said the case has now reached finality. He added that from now on, the focus would be on relevant organizations bringing her to justice.
The only other avenue for Yingluck, or her brother and fellow fugitive Thaksin Shinawatra, to be cleared would be a royal pardon, but those have historically been reserved for convicts who have served significant portions of their sentences.
Yingluck did not show up on Aug. 25 and is believed to be either in Dubai or London, seeking political asylum status in the United Kingdom. The British Embassy in Bangkok has declined to comment on the matter, and it's been over two months since the former premier has made a public statement.