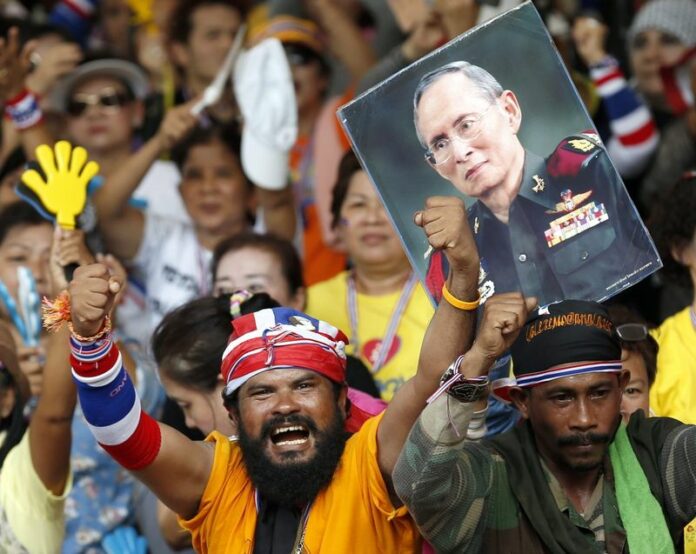 By Cod Satrusayang (DPA)
BANGKOK — Thai senators debated the merits of appointing a government to try and end the country's political conflict during an informal session Monday, as anti-government protesters moved their base closer to parliament.
Senator Kamnoon Sitthisamarn asked newly appointed speaker Surachai Liangboonlertchai to hasten the appointment of a new prime minister in an attempt to "unlock" the current political crisis.
Kamnoon, an appointed senator in Thailand's upper house – where only a fraction of the members are elected – conceded however that such an appointment could be "wrong under the constitution."
Earlier Monday protesters in central Bangkok began moving their main rally site to the area surrounding parliament, hoping to pressure the Senate to appoint an interim government to institute reforms before any new elections.
Thailand's acting prime minister insisted that new elections were the only way to resolve the protracted political crisis.
Niwatthamrong Boonsongphaisan said the caretaker government was willing to work with all sides to end the impasse, but stressed that it must be done "within the framework of the constitution."
"Any attempt by the courts (to launch a judicial coup) is done so at their own risk," he said. "We have legal mandate."
Pro-government supporters rallying on the outskirts of Bangkok also insisted on new elections.
Jatuporn Promphan, a leader of the pro-government movement, warned that support for an appointed government "will only lead to destruction."
"If you subvert democracy, you will be starting a civil war. We will continue our fight and we will escalate it until democracy is restored," Jatuporn said at a rally over the weekend.
Key Thai institutions are reportedly resisting demands to install an appointed government to make political reforms.
Analysts said the Senate, the Electoral Commission and various courts were unlikely to implement such a plan because it would put them at risk of breaking the law, the Bangkok Post reported.
There is no constitutional precedence for the proposal being pushed by anti-government protesters, an unnamed senior judge was quoted as saying by the newspaper.