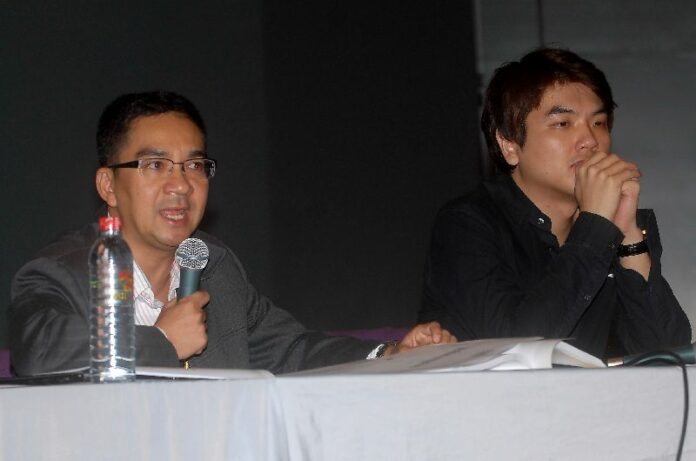 BANGKOK — The agency responsible for organising elections in Thailand has threatened disciplinary action against state-owned Channel 11 for broadcasting a lecture about the need to hold elections.
"I will have the Election Commission (EC) formally ask the Minister who oversees Channel 11 about the broadcast … to determine who ordered the broadcast, and how much money has been spent in the process," said Somchai Srisuthiyakorn, Election Commissioner and director of the EC's election organisation department.
Mr. Somchai's remarks came in response to a event, televised by Channel 11, in which a panel of academics emphasized the need to hold elections promptly.
The lecture was organised by a group of political science and law professors with the Assembly for the Defence of Democracy (AFDD) at Thammasat University's Rangsit Campus on Saturday.
In the event, law lecturer and co-founder of the AFDD Worachet Pakeerut stressed that elections must be held as soon as possible.
The EC had initially scheduled a poll for 20 July, but officials have since suggested that the date is no longer possible, citing difficulties in issuing a Royal Decree to officially approve the election date.
According to Mr. Worachet, the postponement of elections will only bring more uncertainty to Thailand's political crisis. He urged the government to unilaterally issue a Royal Decree approving the election without the EC's assistance, pointing to Article 195 of the Thai Constitution.
These remarks amount to "presentation of information that causes rifts and confusion among the public," said Election Commissioner Somchai.
He was particularly upset by Mr. Worachet's suggestion that the government can issue Royal Decrees without the EC's approval.
"If this broadcast was overseen by the channel directors, they will be officially reprimanded," Mr. Somchai said.
Mr. Somchai insisted that the government must meet with the EC before any election date can be officially confirmed. Last week, a meeting between the government and the EC was abruptly brought to an end when anti-government protesters stormed the venue.
Mr. Somchai also hinted that the election may not take place on 20 July after all.
"It may be impossible because there is not enough time to process issuing the Royal Decree," Mr. Somchai told reporters.
Mr. Somchai's repeated reluctance to arrange the election has led many pro-government supporters to accuse him of tacitly collaborating with anti-government protesters efforts to scupper any election under the current administration.
Academics speaking at Saturday's event also called anti-government protesters' demand for an appointed, royally-approved Prime Minister via Article 7 of the Thai Constitution misguided and undemocratic.
Prajak Kongkirati, political scientist and AFDD member, said that protesters' calls for reforms are valid, but that reforms must be implemented after an election is held.
"The discourse about 'Reform Before Election' is fooling and misleading the public," Mr. Prajak said.
Anti-government protesters have vowed to block any election that is organised before unspecified "national reforms" are carried out.
For comments, or corrections to this article please contact: [email protected]
You can also find Khaosod English on Twitter and Facebook
http://twitter.com/KhaosodEnglish
http://www.facebook.com/KhaosodEnglish