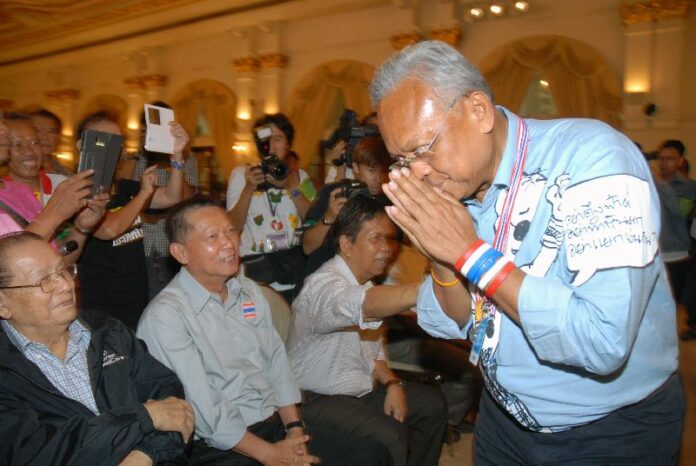 BANGKOK — Redshirts have announced a 5 million baht bounty on anti-government protest leader Suthep Thaugsuban.
According to Nattawut Saikua, a core activist of the United Front of Democracy Against Dictatorship (UDD), the bounty will be immediately rewarded to anyone who can bring about the arrest of Mr. Suthep, who is currently wanted by the police for insurrection charges.
Mr. Nattawut claimed that the money was donated by a person "who wishes to see rule of law in Thailand." The donor requested anonymity, Mr. Nattawut added, citing fears of possible retribution from anti-government protesters.
The bounty comes with one condition: the arrest must be lawful, Mr. Nattawut said.
Although the government has insisted that they are ready to arrest Mr. Suthep and his fellow activists in the near future, the police have yet to make any attempts to detain Mr. Suthep, the self-appointed leader of the People's Committee for Absolute Democracy With the King As Head of State (PCAD).
Mr. Nattawut's announcement came a day after Mr. Suthep declared "one last fight" against the government of caretaker Prime Minister Niwatthamrong Boonsongphaisarn, which he says will involve "hunting down" Cabinet members and pressuring them to resign.
This afternoon, Mr. Suthep met with representatives of labour unions of various state enterprises at the Government House — where he has set up an office — to discuss plans to "seize sovereign power" from the government.
Mr. Suthep asked the union leaders to rebel against the government and join the PCAD in its "final fight" next week.
For comments, or corrections to this article please contact: [email protected]
You can also find Khaosod English on Twitter and Facebook
http://twitter.com/KhaosodEnglish
http://www.facebook.com/KhaosodEnglish