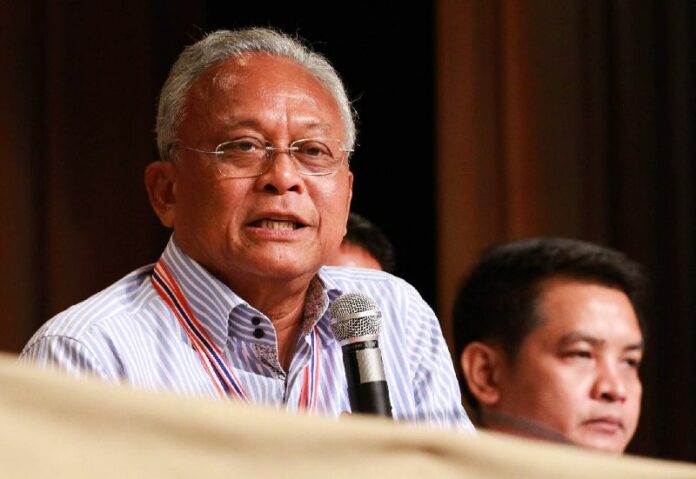 BANGKOK — A prominent anti-government activist is reportedly planning to sue the editor of a popular Thai website over critical remarks about anti-government protest leader Suthep Thaugsuban.
The editor of Kapook, Poramet Minsiri, angered many anti-government protesters when he claimed on Twitter that Mr. Suthep, the self-appointed leader of the People's Committee for Absolute Democracy With the King As Head of State (PCAD), is willing to use his "Sovereign Power" to summarily execute, detain, and seize the assets of his opponents after he manages to topple the current government.
Mr. Poramet's comment was a paraphrase of Mr. Suthep's speech, delivered in April, in which he announced plans to appoint himself as a "Sovereign Body" and wield absolute power through a number of "Revolutionary Decrees" that would grant him authority similar to that which was enjoyed by the military dictatorship in the 1960s.
Although Mr. Suthep did not explicitly threaten to order summary executions, he did mention that he would be able to do so as a "Sovereign Body": "We will have something like Article 17 [of 1959 Administrative Charter] as the highest law … [I] will be able to order anyone to be executed by firing squad, but I will only freeze assets."
However, another PCAD activist, former Democrat MP Satit Wongnongtoey, has deemed Mr. Poramet's interpretation of the speech unacceptable.
Yesterday, Mr. Satit told the anti-government newspaper Manager ASTV that he is consulting with his lawyer to bring a libel lawsuit against the Kapook editor.
"I insist that Mr. Suthep's movements have nothing to do with violence, let alone the threats of execution," Manager ASTV quoted Mr. Satit as saying. He did not mention when his lawyer will file charges against Mr. Poramet.
Responding to the threat of libel lawsuit, Mr. Poramet released a statement claiming that he is an impartial observer of Thai politics, equally critical of both the ruling Pheu Thai Party and the PCAD.
"I find it incredible that for all of the years I have been exposing the Thaksin Administration and the Pheu Thai Party, I have not been threatened by any legal action. But today I have received news that the lawyer of a Democrat Party politician intends to sue me only few months after I criticised Mr. Suthep," Mr. Poramet said in the statement.
For comments, or corrections to this article please contact:[email protected]
You can also find Khaosod English on Twitter and Facebook
http://twitter.com/KhaosodEnglish
http://www.facebook.com/KhaosodEnglish