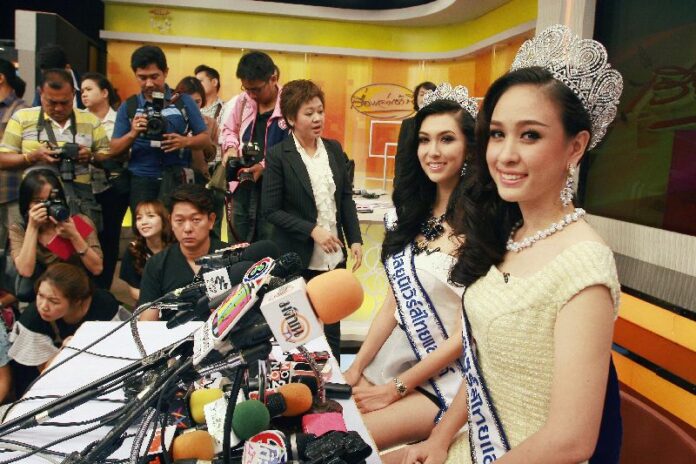 BANGKOK — The winner of Miss Universe Thailand has apologised for the hateful comments she posted about pro-government Redshirts on social media.
Weluree "Fai" Ditsayabut, 22, said on a Channel 3 talk show this morning that she is distressed by the wave of criticism her posts have generated.
"It is still fortunate that I have people around to cheer me up," she told talk show host Sorayut Suthasanajinda.
Hours after Ms. Weluree was crowned winner of the popular Miss Universe Thailand beauty pageant on Saturday night, it was quickly discovered that she had a history of publishing disparaging comments about Redshirts on Facebook and Twitter.
In one particularly harsh comment from November, Ms. Werulee described the Redshirts as "anti-monarchy," "dirty" "evils" who should be "executed."
In an interview this morning, Ms. Werulee confirmed that despite the uproar her comments have caused, she will not concede the pageant crown. She explained that she intended the remarks for "a circle of close friends," and not members of the public.
"I was careless. I was young. I did it recklessly," Ms. Werulee said, adding that she has learned a lesson from the incident and that she intends to use all the criticism she has received to improve herself.
"It won't happen again. Let me apologise to all the fans of the pageant, and to all Thais," said Miss Universe Thailand 2014.
Speaking after Ms. Werulee, beauty pageant runner-up Pimbongkod "Ellie" Chankaew denied rumours that she cried on stage out of bitterness when judges announced Ms. Werulee as the winner.
When judges annouced Ms. Wurlee as the winner, many of Ms. Pimbongkod's disappointed fans cheered her name instead.
"At that moment, I was so glad and overwhelmed by the people who loudly cheered for me," Ms. Pimbongkod said. Ms. Pimbongkod, who was raised in the United States, said she never expected to come this far in the tournament.
"I didn't expect that someone from a foreign country and virtually unknown [to the Thais] would receive so much support," Ms. Pimbongkod said. "I thought Thai people dislike those who don't speak Thai well. That's why I cried. I wasn't upset. I accept the judges' verdict."
Read more: Miss Universe Thailand Calls Redshirts "Dirty"
For comments, or corrections to this article please contact: [email protected]
You can also find Khaosod English on Twitter and Facebook
http://twitter.com/KhaosodEnglish
http://www.facebook.com/KhaosodEnglish