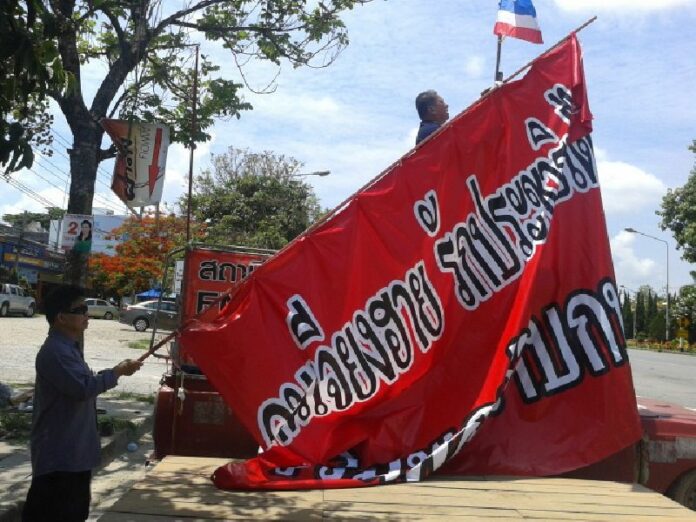 CHIANG RAI — As nationwide martial law takes hold in Thailand, pro-government Redshirts in Chiang Rai province "temporarily" suspended their political campaign, while soldiers were ordered to raid a state-owned television station in nearby Chiang Mai province.
Chiang Rai Redshirts had been organising a rally near Chiang Rai's old city wall in league with the mass demonstration in Bangkok called by the United Front of Democracy Against Dictatorship (UDD).
But today's declaration of martial law by Royal Thai Army commander-in-chief Gen. Prayuth led protesters to call off their demonstration – for now.
"We understand that the military imposed martial law because they want to see peace and order in the country," said Attakorn Kanthachai, leader of the local Redshirt group Love Democracy Network. "So we have to dismantle the stage for the moment."
"Also, we cannot broadcast the footage of the [UDD] rally on Aksa Road, so there's no point in maintaining the stage any longer," Mr. Attakorn added.
This morning, the military shut down ten TV stations, including Asia Update, which had been televising the UDD rally on Aksa Avenue in Western Bangkok.
Nevertheless, the Chiang Rai Redshirts insist that their retreat is only temporary.
"If there's an attempt to find a neutral Prime Minister under Article 7, we will come out to protest such action," said Songtham Kid-an, another activist of the Redshirt group.
Meanwhile in nearby Chiang Mai province, armed soldiers raided the provincial television station of the state-owned Channel 11 in Mae Rim district.
The raid was ordered by the army's newly-formed Peace and Ordre Maintaining Command (POMC), which has invoked its powers under martial law to censor the media to prevent information that might "mislead" the public.
After arriving at the Chiang Mai branch of the National Broadcasting Services of Thailand (NBT), the troops confiscated broadcasting equipment and ordered the staff to delete footage of the raid.
Director of Chiang Mai's NBT Duangman Srikitwilaikul and two of her assistants were later escorted to a military base. The soldiers left the station soon afterwards.
A local Redshirt "community radio" in Chiang Mai has been similarly taken off the air.
"The military has not seized power. We merely want to end violence," said Maj.Gen. Sarayut Sangsri, a commander of Chiang Mai military region, "I don't believe there would be violence, because the military is now resolving the problem."
However, Maj.Gen. Sarayut advised against political gathering of any kind in the meantime. "Unless it is really necessary, there should be no meeting or seminar related to politics."
Chiang Mai and Chiang Rai provinces are major strongholds of the pro-government Redshirt movement.
For comments, or corrections to this article please contact:[email protected]
You can also find Khaosod English on Twitter and Facebook
http://twitter.com/KhaosodEnglish
http://www.facebook.com/KhaosodEnglish