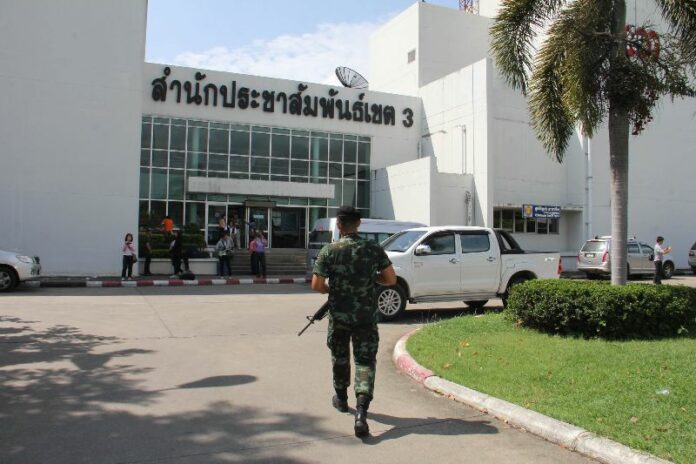 BANGKOK — After declaring martial law before dawn on Tuesday morning, the military issued ten statements over the course of the day spelling out the specifics of its new, wide-ranging powers.
Citing the need to "restore law and order to the country," the military has begun a heavy-handed crackdown on the media, which it is now authorized to do under section 11 of the martial law.
Thailand's martial law, which was written in 1914 when the country was still ruled by an absolute monarch, grants the military "superior power over the civilian authority" and the power to curb a number of human rights.
So far, the military has ordered 14 television stations, affiliated with both pro- and anti-government political factions, off the air.
The military has also prohibited all news outlets and social media sites from publishing any content that "misleads the public" or "escalates the conflict," warning that transgressors could be shut down and summoned for prosecution.
In addition, academics, bureaucrats, justice officials, and independent agencies have been strictly forbidden from giving any media interviews that "distort the facts, cause confusion among the public, or lead to further violence."
In several other televised announcements spaced throughout the day, the military restricted the movement of both pro- and anti-government protest groups in Bangkok, and called upon local authorities to suppress any demonstrations that go against the mission of the military's new peacekeeping organisation, the Peace and Ordre Maintaining Command (POMC).
Army commander-in-chief Gen. Prayuth Chan-ocha said in a press conference that it was necessary to invoke martial law in order to prevent possible "bloodshed" between the pro- and anti-government protesters that are both rallying in the capital city.
At least 25 people have died since anti-government protesters first began their street campaign to oust the current government last November.
The caretaker government, led by acting Prime Minister Niwatthamrong Boonsongphaisarn said that it was not consulted before the military declared martial law at 3:00 a.m. this morning.
Yet Mr. Niwatthamrong insisted that the government does not object to the military's decision.
"For martial law, they didn't need to tell us in advance," Prime Minister Niwatthamrong said in a press conference, "It's something they can do. The government understands the [military's] intention of keeping order and avoiding clashes … which is a good thing."
He also dismissed the rumour that the government is contemplating to remove Gen. Prayuth from his position.
Asked by a reporter whether the general election on 20 July will go ahead as planned, Mr. Niwatthamrong said it is likely that the election will be postponed to 3 August.
The caretaker Prime Minister added that he has already suggested the new date to the Election Commission and awaiting their response.
For comments, or corrections to this article please contact: [email protected]
You can also find Khaosod English on Twitter and Facebook
http://twitter.com/KhaosodEnglish
http://www.facebook.com/KhaosodEnglish