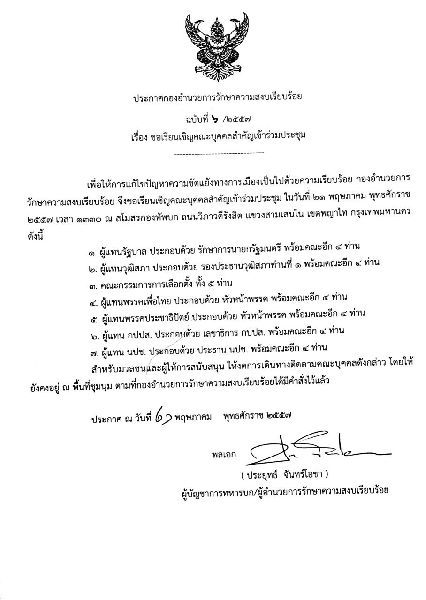 BANGKOK — In a last minute move, the army invited caretaker Prime Minister Niwatthamrong Boonsongphaisarn to a summit meeting of the country's political leaders to be held at 1:30 p.m. today.
The addition of caretaker PM to the list of invitees came as a surprise to many, because earlier in the day an army spokesman said only representatives of the Senate, the Election Commission, the ruling Pheu Thai Party, the Democrat Party, and leaders of the protest groups would be invited.
"The invitation of political adversaries to today's dialogue to find a solution does not include the government, especially caretaker Prime Minister Niwatthamrong Boonsongphaisarn," Col. Winthai Suwaree, deputy spokesperson of the Royal Thai Army, said this morning.
Col. Winthai said that the invitation was only extended to those who are involved in "illegal actions" and "unrest in the country."
However, only an hour before the meeting was scheduled to start, the army-installed Peace and Order Maintaining Command (POMC) announced on live television that Mr. Niwatthamrong would be invited after all.
The meeting is scheduled to take place at the Army Club on Viphavadee Road in Bangkok at 1:30 p.m. today.
The secretary-general of the anti-government People's Committee for Absolute Democracy With the King As Head of State (PCAD) and the chairman of the pro-government United Front of Democracy Against Dictatorship (UDD) are also invited, according to the statement.
Each party is permitted to bring four assistants to the meeting, but "the mass and supporters of these individuals are refrained from attending," the army statement said.
The POMC has not provided any explanation for the last-minute alteration of the invitation.
For comments, or corrections to this article please contact: [email protected]
You can also find Khaosod English on Twitter and Facebook
http://twitter.com/KhaosodEnglish
http://www.facebook.com/KhaosodEnglish