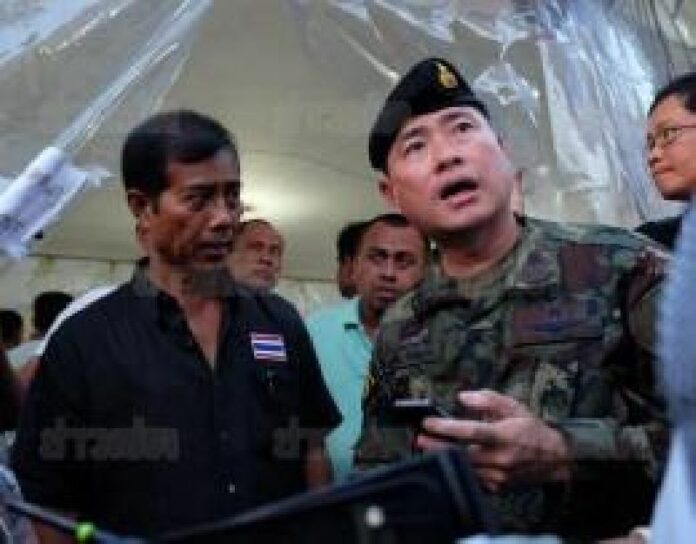 BANGKOK — Rival rallies of pro- and anti-government protesters in Bangkok have been brought to an abrupt halt by a military coup staged at 4:30 p.m. on Thursday 22 May, 2014.
Minutes after the military takeover was announced live on national television, soldiers were seen approaching the rally site of pro-grovernment United Front of Democracy Against Dictatorship (UDD) on Aksa Avenue in western Bangkok.
Panic started to spread among UDD supporters when sounds resembling gunshots were heard from the direction of the approaching troops, lasting for five minutes.
Reporters and demonstrators immediately scurried for shelter, while Somwang Assarasee, a UDD activist, announced on stage that contact had been lost with the UDD leaders who attended the military meeting that preceded the coup announcement.
At around 5:35 p.m. troops assumed the UDD stage and urged the Redshirt demonstrators to go home. Some troops also spread out to intercept vehicles carrying prominent UDD activists.
Soldiers promptly detained UDD advisor, Weng Tojirakarn, who was speaking on the Redshirt stage.
After moments of confusion, a leader of the UDD's northeastern chapter, Anuwat Thinrat, announced that the UDD would suspend all activities. He asked all Redshirt protesters to leave Aksa Avenue immediately "for their own safety."
It's not immediately clear whether anyone was injured in the process.
Meanwhile, the military also moved against the rally site maintained by the anti-government People's Committee for Absolute Democracy With the King As Head of State (PCAD).
PCAD supporters had been celebrating the news of the coup, which marked a victory for the anti-government protest group that have been campaigning to oust the Pheu Thai-led government for almost seven months.
After playing songs written by His Majesty the King, and receiving blessings from a group of chanting monks, PCAD leader Thaworn Senniam said on the stage that all protesters must leave the area.
He added that the military had dispatched trucks to transport protesters to their home provinces.
Mr. Thaworn also stressed that PCAD will officially celebrate their "victory" over the former government on 26 May.
"I'd like to thank the soldiers for taking care of us so well," Mr. Thaworn said on the stage.
Army commander-in-chief General Prayuth Chan-ocha announced the military coup d'etat this afternoon, two days after declaring nationwide martial law.
In several follow-up announcements this evening, the military dissolved the caretaker government, suspended the 2007 constitution, and established a nationwide curfew from 10 p.m. to 5 a.m.
The military also ordered top government officials to report to the military's new governing commission immediately.
The whereabouts of Prime Minister Niwattumrong Boonsongpaisan, who did not attend the reconciliation talks that preceded the coup announcement, remain unknown.
Today's military takeover marks the 12th coup état in Thailand since it became a constitutional monarchy in 1932.
The most recent military coup ousted former Prime Minister Thaksin Shinawatra in 2006.
For comments, or corrections to this article please contact:[email protected]
You can also find Khaosod English on Twitter and Facebook
http://twitter.com/KhaosodEnglish
http://www.facebook.com/KhaosodEnglish