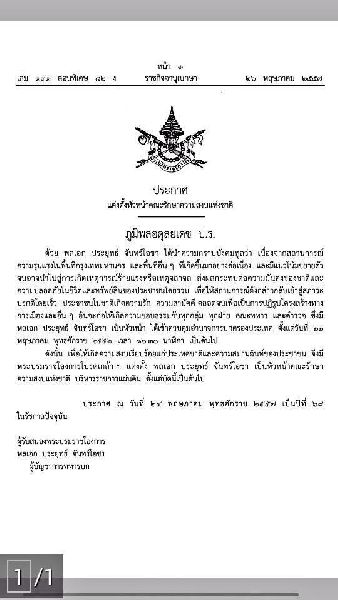 Announcement Appointing the Head of the National Council of Peace and Order
King Bhumibol Adulyadej P.R.
Gen. Prayuth Chan-ocha has informed His Majesty the King that there has been consistent violence in Bangkok and other areas, which threatens to escalate into serious incident or unrest, affecting the national security and lives and property of the general the public. In order to restore the aforementioned situation back to normalcy as soon as possible, and to create love and unity among the people in the nation, and to reform political and other structures, which will give fairness to all sides, the armed forces and the police, headed by Gen. Prayuth Chan-ocha, have seized power of the national administration on 22 May, 2014, 4:30pm onward.
Therefore, to ensure peace and order to the country and harmony of the people, His Majesty the King hereby appoints Gen. Prayuth Chan-ocha as the leader of the National Council of Peace and Order with the authority to administer the country from here on out.
Announced on 24 May 2557 B.E. on the 69th year of the current reign.
Countersigned by Gen. Prayuth Chan-ocha, Commander-in-chief of the Royal Thai Army