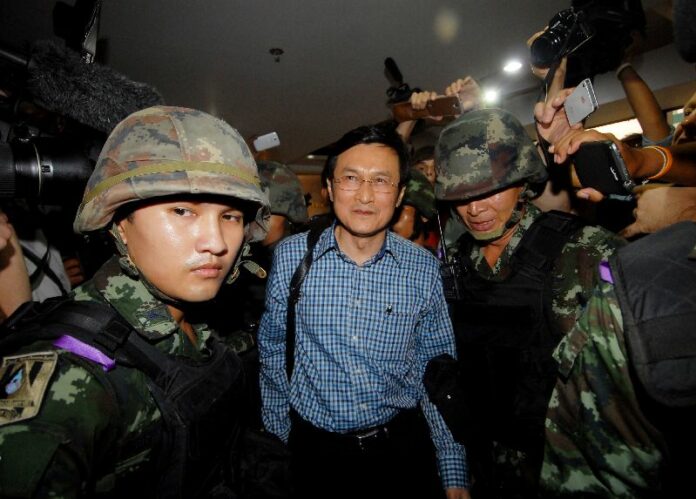 BANGKOK — A fugitive Minister from the former government was abruptly arrested by a squad of soldiers while he was in the middle of giving an interview to the Thai and foreign press in Bangkok this afternoon.
Former Education Minister Chaturon Chaisaeng went into hiding last week after he was summoned to report to the military junta that staged a coup d'état on 22 May.
Today, Chaturon appeared in public for the first time in five days to give a last-minute press conference at the Foreign Correspondents' Club of Thailand (FCCT), where he announced that he would no longer resist arrest.
It was the first public appearance of any member of the former government since the coup d'etat last Thursday.
Soldiers barged into the club shortly after the press briefing was over and arrested Chaturon while he was sitting and answering reporters' questions near the club's bar. The military later announced that the former minister will be prosecuted in martial court and could face up to two years in prison for refusing to comply with his summons earlier.
Prior to the arrest, Chaturon told reporters that he had refused to report to the military last week because he did not consider the coup d'état legal until it received a royal confirmation yesterday. Chaturon said he worried that complying with the junta's orders before the coup was royally-approved could have made him liable for cooperating with criminals.
More than 200 politicians, activists, and journalists have been summoned by the military since it seized control of the country last week. Many of those who reported to the junta are still in custody.
Despite deciding to accept arrest, Chaturon stressed that he still strongly disapproves of the coup, which he called an "abrogation of democracy."
Chaturon, a former student activist who campaigned against the military and right-wing paramilitary in the 1970s, predicted that the coup will only deepen the country's divisions. He recalled how the 1976 military takeover and crackdown on dissidents drove him and many other progressive activists to join the Communist insurgency in rural Thailand.
Chaturon warned that if today's military leaders crack down on the blossoming anti-coup movement, activists may also be forced to go underground and take up armed struggle.
"Democracy only, can help us resolve the problem of this country," Chaturon said. "There is no other way,"
When asked whether former Prime Minister Thaksin Shinawatra has "abandoned" his supporters, Chaturon dismissed the notion that the influential former leader is still the centerpiece of the pro-democracy movement in Thailand.
"In my opinion, Thaksin made a contribution to the democratic movement, but if Thaksin lessens his own role … I don't think it will affect much," Mr. Chaturon told reporters. "There will always be people who want this country to become democratic, and so they will mobilize. With our without Thaskin, they will still mobilize."
Chaturon said he has not spoken to Thaksin since the Pheu Thai Party attempted to pass the "blanket amnesty" bill last November, which sparked the anti-government protests that culminated in the coup. He also said he is not aware of any plan by Thaksin's faction to form a government-in-exile.
Minutes before the soldiers showed up, a reporter asked Chaturon if he had any message for Gen. Prayuth.
"I just want to warn Gen. Prayuth that harsh measures will not help," said Chaturon. "If you really want to resolve the problems of the country, don't be oppressive. Allow people to participate in the process."
(Reporting by Sally Mairs and Teeranai Charuvastra)
For comments, or corrections to this article please contact: [email protected]
You can also find Khaosod English on Twitter and Facebook
http://twitter.com/KhaosodEnglish
http://www.facebook.com/KhaosodEnglish