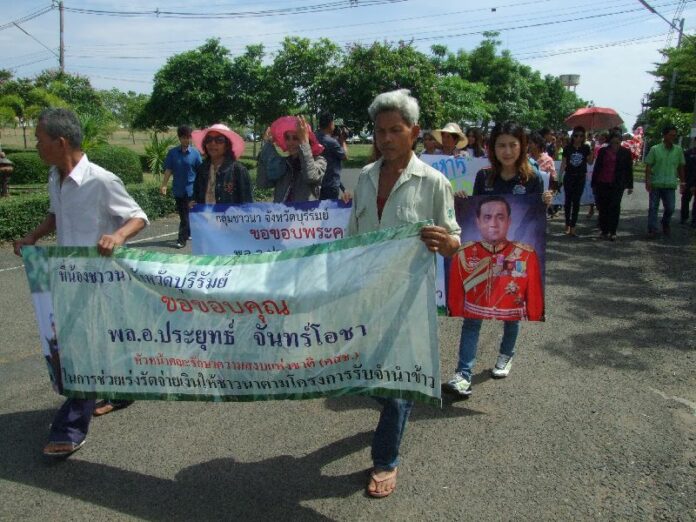 BANGKOK — The Thai military is stepping up efforts to control the narrative behind the coup it staged last week with propagandist videos and stern censorship of alternative accounts.
In a press conference this morning, deputy chief of staff Lt. Gen. Chatchalerm Chalermsukh told reporters that the coup was an effort to prevent Thailand from becoming "a failed state like Syria or Libya."
He stressed that the military takeover was not driven by self-interest.
"We have nothing to gain from this coup," Lt. Gen. Chatchalerm said. "We are sacrificing ourselves for the nation. If we don't succeed, we will go to jail. Treason is punishable by death."
The military also interrupted all state-owned television broadcasts this morning to air a self-promoting video about how the military has already begun solving Thailand's "deep-rooted problems."
The video opened with a female narrator explaining that while Thais are free to choose their own political views, deepening ideological differences in recent years have polarized Thai society and led to violence.
"Democracy has failed to solve this problem" and it is clear that "elections will lead to losses," the narrator said over footage of the rival protest groups that were camping out in Bangkok prior to the coup.
The military tried to step in to resolve the dispute, but the two sides "failed to reach any agreement, forcing the military take control of power," the narrator explained, followed by a clip of army chief and coup-leader Gen. Prayuth Chan-ocha declaring the military takeover on national television.
Gen. Prayuth announced the coup d'état after talks with rival political factions failed to solve the country's decade-long political crisis in two days.
The twenty minute video went on to praise Gen. Prayuth for his efforts to "swiftly solve" the country's problems while refraining from invoking martial law's harshest powers. Under martial law, the military is authorized to censor the media, search and detain people at will, and violate a number of other internationally-recognized human rights.
"We try our best to avoid violating human rights," the video showed Gen. Prayuth saying in a press conference with foreign media.
Since seizing power last Thursday, the military junta has drawn widespread criticism from Human Rights groups for cracking down on media freedom, banning public demonstrations, raiding homes without search warrants, and detaining hundreds of politicians and activists.
"Military rule has thrown Thailand's rights situation into a free fall," said Human Right's Watch's Asia director Brad Adams. "The army is using draconian martial law powers to detain politicians, activists, and journalists, to censor media, and to ban all public gatherings. This rolling crackdown needs to come to an end immediately."
The military's short film ended with shots of rice farmers receiving overdue payments for the paddies they sold to the government last year under its controversial rice-subsidy program.
The military announced earlier this week that it would distribute billions of baht to the more than 800,000 rice farmers that are still owed money from the rice scheme. The former government failed to pay farmers on time because of internal mismanagement and crippling anti-government protests that led to the dissolution of Parliament in December.
The payments to rice farmers, who are among the former government's strongest supporters, has been highly-publicized on military-controlled media all week.
The military is actively broadcasting its version of the 2014 coup while it simultaneously clamps down on media outlets and individuals that offer different narratives. Over 200 websites have been banned since the military seized power last week, and plans for a national internet gateway, which would augment the army's ability to censor online material, are currently underway.
Yesterday, Facebook was made inaccessible for millions of Thais for about an hour; the army initially took responsibility for the shutdown, but later insisted it was an innocent "technical glitch."
(Reporting by Sally Mairs)