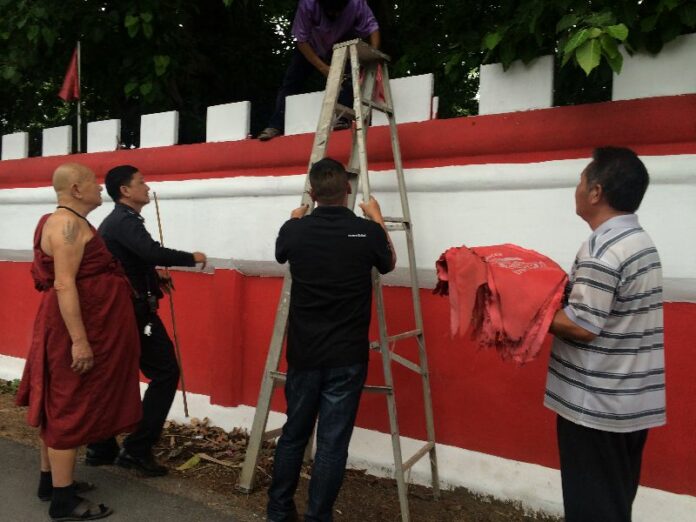 CHIANG MAI — As part of the military's ongoing effort to de-politicize Thai society, security forces in Chiang Mai province have taken down flags affiliated with the Redshirt political movement that used to adorn Wat Sri Boon Reung Temple.
Police officers arrived at the temple in Mueang district yesterday evening to take down the flags, which bear the official emblem of the Redshirt umbrella organization, the United Front of Democracy Against Dictatorship (UDD).
No Redshirt supporters showed up to resist the police operation. The temple's abbot, Phra Kru Suthep Sitthikun looked on in silence.
Phra Kru Suthep told reporters that the temple was a popular religious destination for the local Redshirt group, Love Chiang Mai 51, which organised rallies in support of now-deposed Prime Minister Yingluck Shinawatra and launched attacks on rival protest groups in the province. Chiang Mai province, the home of the Shinawatra family, is a stronghold of the Redshirt movement.
According to Phra Kru Suthep, members of Love Chiang Mai 51 hung the UDD decorations and later painted the wall of the temple red without any involvement from the temple's administration.
"The temple-goers did it on their own. I didn't know anything about it," Phra Kru Suthep said.
Nevertheless, the abbot said he did not oppose the idea.
"The temple is a public space," Phra Kru Suthep said. "The temple-goers have the right to do whatever they want. I didn't oppose them."
Phra Kru Suthep said he was notified a few days ago that a local military unit would be sending security forces to strip the temple of any political decoration, which the abbot said he agreed to.
"Whatever that helps our country return to normalcy, I am glad to do it," Phra Kru Suthep said.
According to the abbot, the military decided to send police officers instead of soldiers to the temple in order to avoid a confrontation with local Redshirt supporters.
A week after it seized power from the Redshirt-allied government, the military's National Council of Peace and Order (NCPO) announced plans to establish "reconciliation centres" across the country in an effort to convince Thailand's political factions to put aside their ideological differences and work together for the sake of the country's "unity."
The plan is unlikely to win the favor of anti-coup Redshirt activists who accuse the military of bias against their political faction, citing the mass summons and detentions of Redshirt supporters and the military's heavy handed approach to anti-coup protests in Bangkok.