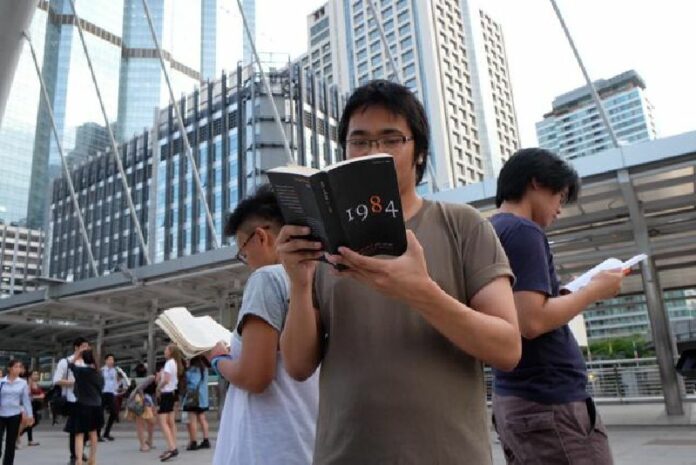 BANGKOK — A week after seizing control of the country, Thailand's military junta has begun sealing off the rally site of Bangkok's burgeoning anti-coup movement, forcing activists to seek new spaces to voice their defiance.
For the past two days, soldiers and police have blockaded all roads leading to Bangkok's Victory Monument, where anti-coup protesters began staging regular rallies two days after the military's National Council of Peace and Order (NCPO) staged a coup on 22 May.
Despite the martial law ban on public gatherings, security forces tolerated the protests for several days. But after some protesters attacked a military Humvee at a rally on 28 May, the army began clamping down on the iconic site.
Yesterday, the military lockdown around Victory Monument forced protesters to join another anti-coup gathering on Thammasat University's Tha Prachan campus in Bangkok's old quarters.
The student-organised protest was held in the university's Bodhi Tree Courtyard, the historic spot where student activists staged a protest that later snowballed into a popular uprising against the military junta in October 1973.
Several hours after yesterday's protest began, university staff asked the students to move their rally off campus, citing the martial law ban on public gatherings. Arguments ensued, but the activists eventually retreated to just outside the university's southern gate.
The protest lasted until 6 pm, after which the activists dispersed peacefully.
Another small anti-coup demonstration was held at Chong Non Si BTS Station, where ten activists staged a "read-in." The demonstrators stood in a group and silently read George Orwell's Nineteen-Eightyfour to voice their dissent against the military junta.
The leader of the group, Pimsiri, said the protest was intended as a non-violent gesture of dissent that would avoid confrontation with soldiers. Ms. Pimsiri, who asked to be identified only by her first name, also expressed hopes that authorities will not crack down on "read-ins" in the future, given that Bangkok is promoting itself as the "City of Books."
The military lockdown at Victory Monument continued for a second day today, preventing any protests from taking place. There was no rally at Victory Monument yesterday either, except for a pair of women who raised placards bearing anti-coup slogans and were promptly detained by security forces.
A Belgian man was also arrested and taken away from the area after he displayed a T-Shirt with the words "Peace, Please." No explanation was given by the military for his arrest.
It is not clear how long the military will continue to lockdown Victory Monument, an important transportation hub for Bangkokians.
Fugitive activist Sombat Boonngarm-anong has called for a major anti-coup protest on 1 June at Ratchaprasong Intersection in central Bangkok.