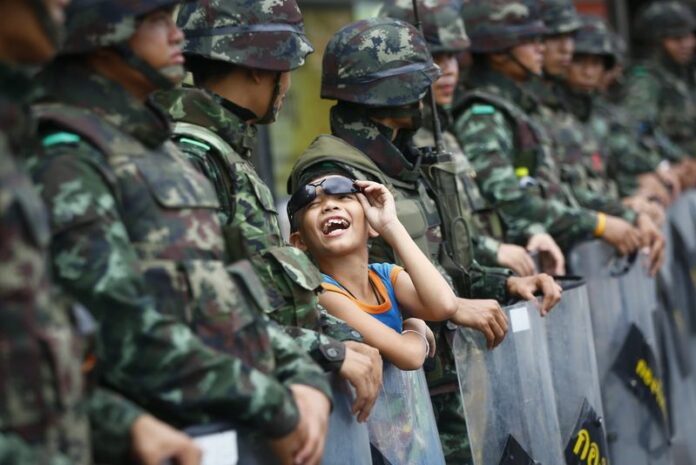 by Cod Satrusayang (DPA)
BANGKOK (DPA) — Thai coup leader General Prayuth Chan-Ocha says elections will be held in 14 months at the earliest.
In a televised address before the nation, Prayuth broke down his vision for Thailand into three phases.
The first phase of will be military rule for 1-2 months where efforts will be undertaken to achieve national reconciliation.
The second phase would involve the drawing up of a working constitution by "experts" and a junta appointed government which would rule for at least one year.
The third and final phase would be a general election that was acceptable to all sides.
Prayuth went at lengths to explain the country had severely stagnated over 9 years of political protests and the army felt it had no choice but to step in.
"We will stick to the rule of laws. We will respect human rights. Our aim is to provide safety and bring back happiness to the people," he said.
He also placed emphasis on the passing of the 2015 budget to "keep up with competitors in ASEAN."
Among the more contentious point of his speech was the mention of investments in megaprojects to improve infrastructure.
Megaprojects were one of the key arguments against the last government, with critics calling them uneccesary and liable to corruption.
General Prayuth ended the speech by calling for understanding from both Thais and foreign countries.
"We understand the concerns of our friends overseas but please allow us the time to mend Thai democracy. We believe our people will chose the country over the flawed democratic system [that we had]."
The army seized power last week after seven months of anti-government protests that led to violence and a political stalemate.
Rights groups have been quick to protest the junta's detention of key dissidents and its censorship of the media, something Prayuth says is needed to calm political tensions.
The junta has since made it illegal to criticize the junta or the military.
Despite restrictions placed by the junta, sporadic anti-coup protests have sprung up across the nation. So far they have been peaceful but the military has vowed arrests if protests continue.