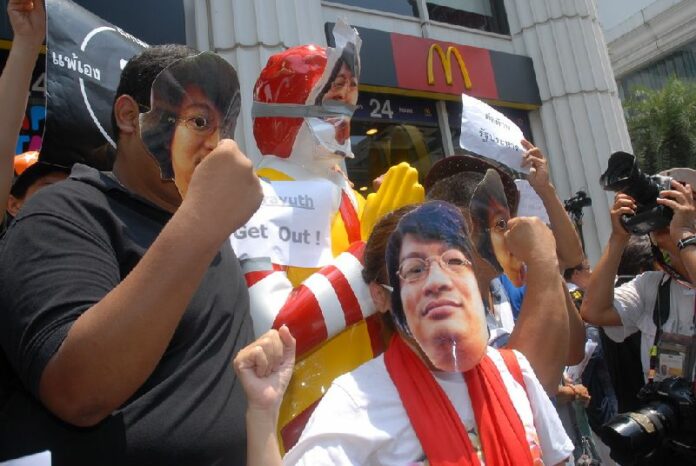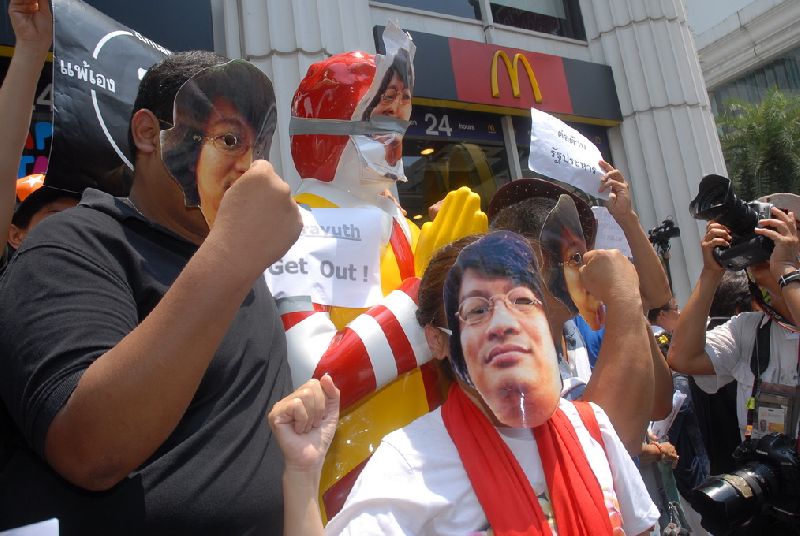 BANGKOK — A fugitive anti-coup activist is urging supporters to prepare for a cat-and-mouse chase with security forces in a major protest planned for Sunday.
Earlier this week, Sombat Boonngarm-anong, aka "the Dotted Editor," announced plans for a large anti-coup rally at Ratchaprasong Intersection in the heart of Bangkok's financial district on Sunday.
However, Mr. Sombat said today that he will announce a new location for the protest by 10 am tomorrow morning in order to evade security forces, who have been locking down on other anti-coup rally sites.
Since seizing power in a coup d'etat on 22 May, the military has outlawed public demonstrations of more than five people.
On Thursday and Friday, hundreds of soldiers and riot police sealed off Victory Monument in a massive show of force to prevent the anti-coup rallies that had become a daily occurrence.
Media reports indicate that a similar lockdown may be in store for tomorrow to block Mr. Sombat's rally. The BTS has reportedly announced that it will suspend service to three Skytrain stations around Ratchaprasong Intersection from 9 am tomorrow until further notice.
This morning, Mr. Sombat advised protesters to closely monitor the situation on social media and be prepared to adapt quickly.
Mr. Sombat has billed the protest as a "Fancy Masquerade," urging supporters to arrive at the yet-to-be-designated protest site with masks bearing the faces of prominent political figures, such as ousted former Prime Minister Yingluck Shinawatra and head of the military junta Gen. Prayuth Chan-ocha.
Mr. Sombat has been actively voicing his opposition to the military junta and organising protests on social media since he went into hiding last week after receiving a summons order from the National Council of Peace and Order.
After learning of the summons, Mr. Sombat posted on social media that he would not bow down to the NCPO's command.
"Catch me if you can!" Mr. Sombat wrote on his Facebook.
The military has since freezed Mr. Sombat's bank accounts and warned that he will face a trial in martial court and a punishment of several years in prison for defying the summons.
Mr. Sombat was also an active campaigner against the last military coup in September 2006, when he a co-founded the 19 Sep Network Against Coup D'etat. He later split from the network and founded his own group, "Thais Say No," whose members adopted red shirts as their trademark, preceding today's Redshirt movement by a year.
Speaking to Khaosod English from hiding, Mr. Sombat said he believes the ongoing protests against the NCPO have the potential to be successful, but stressed that it is too soon to tell.
"I think we have to wait for a month first," he said.
"Now that the coup makers have installed themselves in power, will they make any mistakes?" Mr. Sombat asked. "The people's protesters have already been formed. If the military does any mistakes, it will be exacerbated by the existing people's movement."
He also praised the role of social media in organising protests, noting that it is a crucial difference between the most recent coup d'etat and the military takeover in 2006.
"They are both coups, but the difference is that the people are better prepared this time to resist the coup," Mr. Sombat said.
Although Mr. Sombat admitted that he is concerned about potential violence on Sunday, he said believes the military will behave with restraint to preseve its image.
Asked whether he is confident that the military will not discover where he is hiding, Mr. Sombat said, "We have to see whose luck will outlast the other."
"Right now the biggest concern in my life is that I can't go to buy dim sum at 7-11," the activist added wistfully.
For comments, or corrections to this article please contact:[email protected]
You can also find Khaosod English on Twitter and Facebook
http://twitter.com/KhaosodEnglish
http://www.facebook.com/KhaosodEnglish