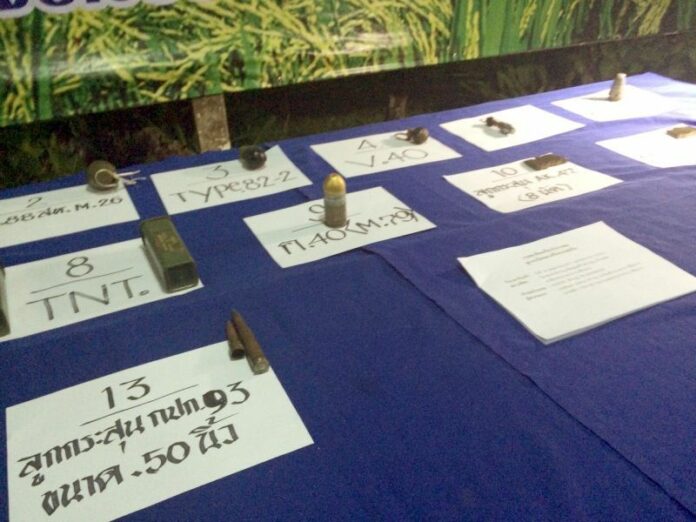 CHIANG RAI — The army says it uncovered a stash of military-grade weapons and ammunition at a deserted hotel in Chiang Rai province last night.
The Royal Thai army displayed the weapons in a press conference today.
Maj.Gen. Pattana Martmongkol said local authorities received reports of a potential arms stash in a deserted hotel in Phan district, and the army dispatched troops to inspect the area last night.
The soldiers noticed a collapsed ceiling in Room 13, and an extensive search in the attic above turned up numerous military-grade weapons and ammunition, Maj.Gen. Pattana said.
According to the military, the confiscated weapons include an M16 rifle, AK47 rifle, ammunition for an M60 machine gun, a grenade launcher, grenades, smoke bombs, and TNT devices.
Although the weapons appear to be "at least 15 years old," all of the items are in good condition and could be used in combat, Maj.Gen. Pattana told reporters. He suggested that the owner of the weapons may have stashed them for a long time and decided to abandon the illegal items out of fear of a crackdown by the armed force following a coup d'etat on 22 May.
The military have made a number of raids over the past week uncovering weapons that allegedly belong to underground militant groups allied to the previous government.
For comments, or corrections to this article please contact:[email protected]
You can also find Khaosod English on Twitter and Facebook
http://twitter.com/KhaosodEnglish
http://www.facebook.com/KhaosodEnglish