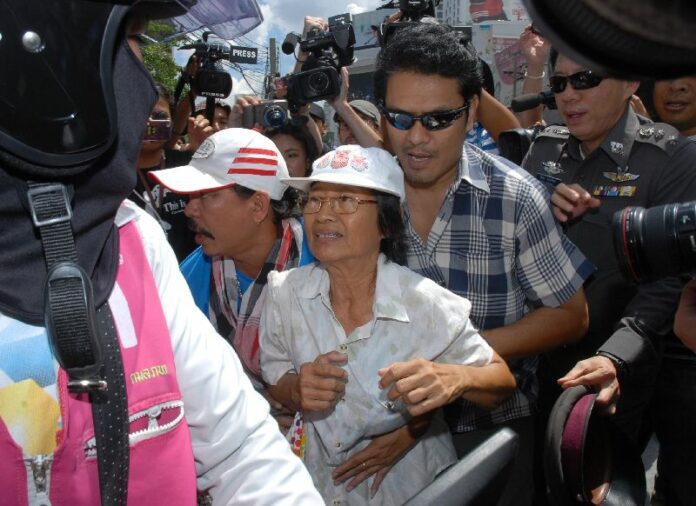 BANGKOK — Thailand's Journalist Association (TJA) has criticised security forces for disguising themselves as reporters during their abduction of an anti-coup protester yesterday.
The comments came in response to footage of a lone protester being forcefully taken away by suspected undercover police officers, one of whom was wearing an official press badge, near an anti-coup demonstration at Ratchaprasong Intersection in Bangkok yesterday afternoon.
TJA spokesperson Manop Thip-osot told Khaosod English that that the association is "gravely distraught" to see one of the undercover policemen wearing a press badge and green arm band that TJA issues exclusively to journalists.
According to Mr. Manop, this was not the first time police officers have dishonestly worn TJA's green arm bands. He said that plain-clothed police officers are known to disguise themselves as reporters while collecting intelligence reports in protest sites, but yesterday was the first instance of officers making an arrest while sporting the journalist disguise.
Mr. Manop said TJA is worried that such action may put journalists and photographers covering the anti-coup protests at risk.
"Now the protesters may be suspicious [of the reporters]. They may aggressively demand to see our identification cards from now, which may lead to unnecessary confrontation," Mr. Manop said.
If the police continue to disguise themselves as reporters and wear the press arm bands, TJA will consider taking legal action against the police force, Mr. Manop said.
Mr. Manop added that the TJA is planning to issue a new design of arm bands to prevent further incidents of abuse. Furthermore, he urged all members of the press to refrain from handing over their arm bands to security forces or non-media individuals.
TJA has already sent a letter to the NCPO expressing its concern over the restriction of media freedom in the post-coup environment.
On 26 May, NCPO-leader Gen Prayuth responded by asking the Thai Journalists Association to stop making demands.