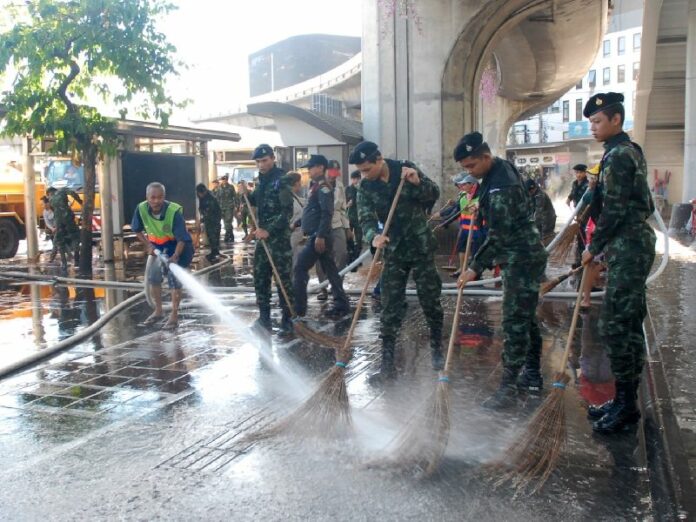 BANGKOK — In an effort to "return happiness" to Thai society after months of political unrest, the military junta is organizing road cleanups, army-band concerts, and free haircuts for the people.
Gen. Prayuth Chan-ocha, the army chief who led a coup on 22 May, recently said that the "happiness" of Thai people is among the top priorities of the military junta, known as the National Council for Peace and Order (NCPO).
"Thai people, like me, have probably not been happy for nine years, but since May 22, there is happiness," Gen. Prayuth said in a national address laying out a roadmap for the country, which includes 2-3 months of "national reconciliation" followed by a year of constitutional reforms.
Today, soldiers from a cavalry division based in Saraburi province were deployed to cleanup the area around Victory Monument in central Bangkok – the site of several anti-coup demonstrations last week.
Billed by the military as "Big Cleaning Day," the effort was aimed at bringing beauty and cleanliness back to the people, army officers said.
The military also held free concerts over the weekend, with soldiers playing guitars, keyboard, saxophone, trombone, and drums to the applauses of happy-looking audiences.
The concerts also featured free haircuts and dessert.
This Friday, the NCPO will begin airing a weekly television program to keep the public informed of it's efforts to return happiness to the 'Land of Smiles.'
"It will be an explanation of the NCPO's works, and will answer people's questions," an army spokesman explained on 31 May.
Since seizing power, the NCPO has summoned and detained more than 300 people, censored and closed down a number of TV stations and radios, and arrested protesters who voiced their opposition to the military junta.
NCPO spokesman Col. Winthai Suwaree said today that the military's crackdown on dissidents is a necessary part of the happiness project.
"Although those who disagree with the NCPO's ways are few, they affect the NCPO's mission to return happiness to the country," Col. Winthai explained.
For comments, or corrections to this article please contact:[email protected]
You can also find Khaosod English on Twitter and Facebook
http://twitter.com/KhaosodEnglish
http://www.facebook.com/KhaosodEnglish