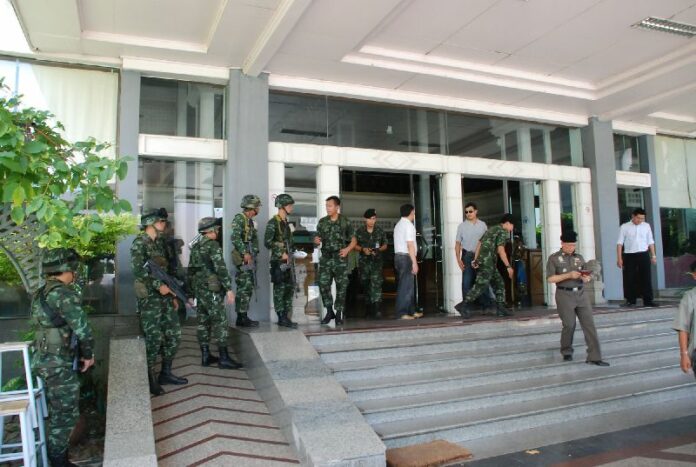 PHITSANULOK — More than 100 soldiers raided a hotel in Phitsanulok province searching for a fugitive anti-coup activist, but stumbled upon an illegal casino operation instead.
The soldiers raided the Paloma Hotel in Mueang district yesterday looking for Sombat Boonngarm-anong, who refused to comply with the military junta's summons and has been organising anti-coup protests from hiding.
During the raid, soldiers discovered a large hall inside the hotel that had been converted into an illegal casino offering a diverse range of games, including Thai poker, Hi Lo, and Rummy. There were also several official signs detailing the "house rules."
One sign read: "If you gamble, you have to accept your losses. Don't be thick-faced or do things that will make people hate you. Your actions will bring a bad reputation to our gambling den and yourself. Understand?"
There were no gamblers at the time of the raid, but soldiers detained two staff who were reportedly in charge of overseeing the casino. They told the troops that it was closed down shortly after the army imposed martial law.
The hotel's manager, Araya Arisombat, insisted that the hotel administration was not aware of the extensive casino operation that had been taking place under its roof. Mr. Araya has been summoned to the local military headquarters for further questioning, said Col. Noppon Ruenchan, the commander who led the raid.
The army thought Mr. Sombat might be hiding in the Paloma Hotel because other prominent Redshirt leaders have stayed and organised political lectures there in the past, Col. Noppon told reporters.
Mr. Sombat, who is also known as the Dotted Editor, wrote on his Facebook yesterday that he has never stayed at the Paloma hotel.
He also accused the military of using the search as a pretext for raiding the hotel's casino.
"From now on, people who want to open a new casino already know who they have to pay extra money to, otherwise there will be raids on the Dotted Editor in every casino," Mr. Sombat wrote.
Mr. Sombat has been in hiding since the National Council of Peace and Order (NCPO) seized power and summoned him, along with hundreds of other activists, to surrender to the military.
A veteran activist who campaigned against the previous military coup in 2006, Mr. Sombat helped organise the recent anti-coup "flash mobs" that popped up in Bangkok over the weekend. The military responded by freezing his bank account and deploying hundreds of troops to block potential venues of the anti-coup protests.