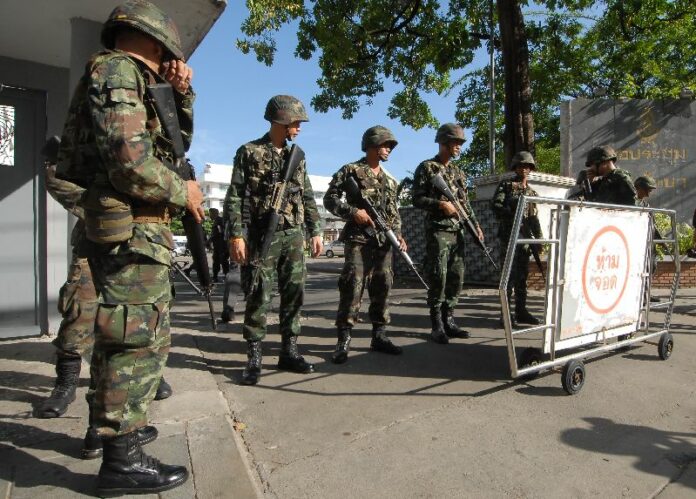 BANGKOK — On the second night of his detention at a military camp in Bangkok, Kengkit Kitirianglarp found himself seated in the middle of a room, surrounded by a dozen security officers who were interrogating him and looking up information on their computers to challenge his answers with.
"'You lie! We have information about you!' they would tell me," recalled Mr. Kengkit, a political science lecturer at Chiang Mai University and a long-time leftist activist. "They tried to accuse me of many crimes and link me to many people."
Mr. Kengkit was among the 18 academics and activists who were summoned by the military junta's National Council for Peace and Order (NCPO) to an armybase in Bangkok last week. Fifteen people showed up, including Mr. Kengkit. He was detained for three days of interrogation before the military released him.
Other "invitees" included Suthachai Yimprasert, a history lecturer at Chulalongkorn University; Thewarit Maneechai, a journalist at the non-profit news site Prachatai; and Kathawut Boonpitak, a Redshirt activist and producer of an online talk show known for taking swipes at the establishment.
Since seizing power in a coup d'etat on 22 May, the NCPO has summoned over 300 people, the majority of whom are considered allies of the former government. However, Mr, Kengkit said he suspected the NCPO summoned him and the 14 others he was grouped with because they were considered potential violators of Thailand's strict lese majeste laws.
In Thailand, lese majeste — criticism of the monarchy — is a criminal offense punishable by up to 15 years in prison.
"Some officers actually told me they wanted to establish links we had with people who produced content [violating lese majeste]," Mr. Kengkit said. "I believe they will summon the people who allegedly produced those materials in future announcements."
To establish those links, the security officers placed photos of different individuals before Mr. Kengkit and asked him how he knew each person. The photos included images of Sombat Boonngarm-anong, an anti-coup activist who is now arrested; Somsak Jiamteerasakul, a historian and critic of monarchy; and Giles Ungpakorn, a former Chulalongkorn lecturer who lives in the UK and was summoned by the NCPO two days ago.
Mr. Kengkit said the interrogation was chaired by a colonel, along with several army officers, three police officers from the computer crimes unit, three officers of the Internal Security Operations Command (ISOC), and one representative from the police.
"They all sat around with their computers, and they typed whenever I spoke," Mr. Kengkit said.
The interrogation started with an army officer taking a survey of Mr. Kengkit's opinions on the monarchy, lese majeste laws, former Prime Minister Thaksin Shinawatra and his political clan, and the military takeover on 22 May.
"When I answered in ways that contradicted what the military thought, an army officer would interrupt and lecture me on what I misunderstood," Mr. Kengkit told Khaosod English. He said he eventually realised, "the army only wanted me to listen. My duty was to listen. So I answered only when they asked."
ISOC officers told Mr. Kengkit they had been monitoring him for a long time, displaying a collection of photos they had of him in different locations as evidence.
Mr. Kengkit said the ISOC officers also accused him of knowing people he didn't know and being invovled in events he had nothing to do with, such as the play, "Bride of the Wolf," which was organised by a group of activists last year and has been accused of criticising the monarchy.
"They told me I wrote the script for that play, that I lent my idea to the producers, but it isn't true," Mr. Kengkit told Khaosod English.
According to Mr. Kengkit, "bad cop" soldiers would aggressively contradict his remarks, call him liar, and repeatedly ask him the same questions with different wording in an effort to confuse him and force him to accept their charges.
However, despite their show of force, Mr. Kengkit said he believes the army's intelligence reports on him and his associates were actually very disorganised. Mr. Kengkit said that several of the photos ISOC officers had of him were lifted straight from Google and other public websites.
Mr. Kengkit said that cooperating with the military appeared to be a crucial determinant of when detainees are released. He explained that the colonel who chaired the session told him after several hours of interrogation on the second day that he appreciated Mr. Kengkit's cooperation and would release him the next morning.
"So I cooperated with them, yes. I admitted knowing people that I know. But I also insisted on my innocence when they accused me of doing things that I didn't do, or knowing people I didn't know," Mr. Kengkit said.
Like all other detainees, Mr. Kengkit was released on the condition that he will not participate in any political movements. Asked whether he plans to continue to campaign against the coup, Mr. Kengkit replied, "The ceiling of freedom is very low right now. We have to chip away at that ceiling, to make it higher than it is. We can't just break it with a hammer, because that would put us in danger."
Mr. Kengkit told Khaosod English he believes it will be a long time before the military returns power to a civilian administration.
"That is why we have to adjust our lives," he said. "We have to live. How can we stay out of trouble yet still stick to our calls for democracy? It seems we have to design a whole new way of life."