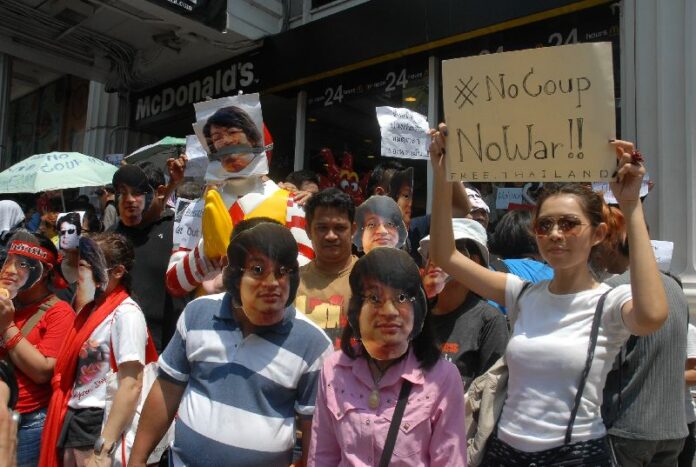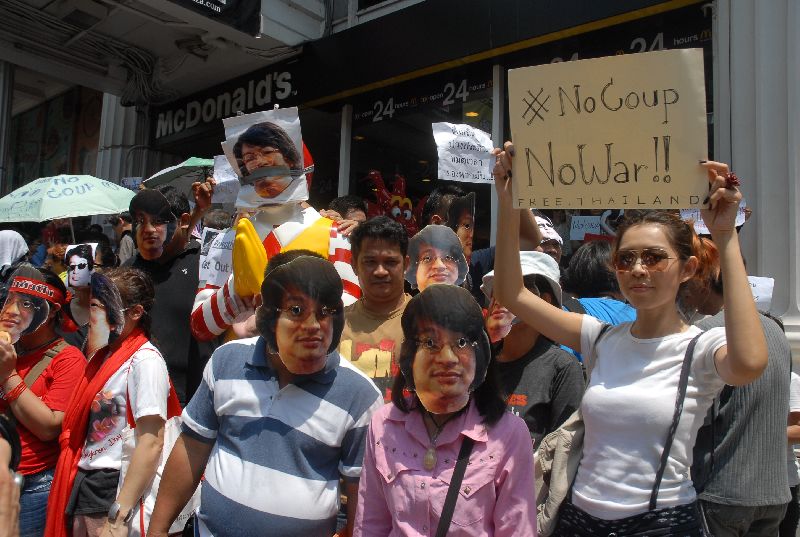 BANGKOK — The arrest of Sombat Boonngarm-anong, a high-profile activist who has been organizing anti-coup rallies from hiding, comes as a major setback for Thailand's fledgling protest movement against the military junta.
Since seizing power on 22 May, the National Council for Peace and Order (NCPO) has banned public demonstrations, detained scores of activists, and censored the media in an effort to silence criticism of the coup d'etat. Security forces have also come out in large numbers to lock-down anti-coup rally sites and successfully prevent large demonstrations.
The anti-coup movement was dealt another blow last night when Mr. Sombat, a de facto leader of the movement, was arrested by soldiers in his hiding place in Chonburi province. Mr. Sombat is being held in custody at the 21st Infantry Regiment headquarters and is set to face trial in martial court, the army says.
Mr. Sombat, aka the Dotted Editor, has been hiding for the past two weeks in defiance of a summons order from the NCPO. Instead of turning himself in, Mr. Sombat wrote on his social media, "Catch me if you can," and went into hiding where he organised a series of flash protests through social media.
When Khaosod English asked him last week whether he believed the military would find him soon, Mr. Sombat replied, "We will have to see whose luck will outlast the other."
Mr. Sombat's arrest came as a surprise to many supporters, especially after the army claimed the Computer Crime Suppression Division tracked him down through his IP address, which is considered easy to hide.  Mr. Sombat is known to be a tech-savvy activist who has taught supporters how to cover their tracks on the internet.
"If the military wants to find me, I believe they can do it, but only after they search every corner of the country," Mr. Sombat taunted on his Facebook only few days before he was detained.
Mr. Sombat's arrest has also caused many activists to worry about who will take the helm of what appears to be a leaderless movement.
"I think I will continue to campaign, but I won't be the one who leads," said a regular participant of Mr. Sombat's flash protests who declined to give his name. "I will have to see the situation first."
According to army spokesperson Col. Winthai Suwaree, the military will spend the next 7 days "creating understanding" in  Mr. Sombat and "adjusting his attitude."
"There is no punishment for him yet," said Col. Winthai, adding that Mr. Sombat will be sent to the military court next week to face charges of violating NCPO's summons order and inciting unrest through social media.
Nevertheless, some opponents of the coup still remain hopeful that the protests will continue.
"[The arrest] surely affects the movement. A lot of people lost their morale," said one activist. "But I think this atmosphere of harsh repression on liberty will eventually drive people to come out and show their defiance again."