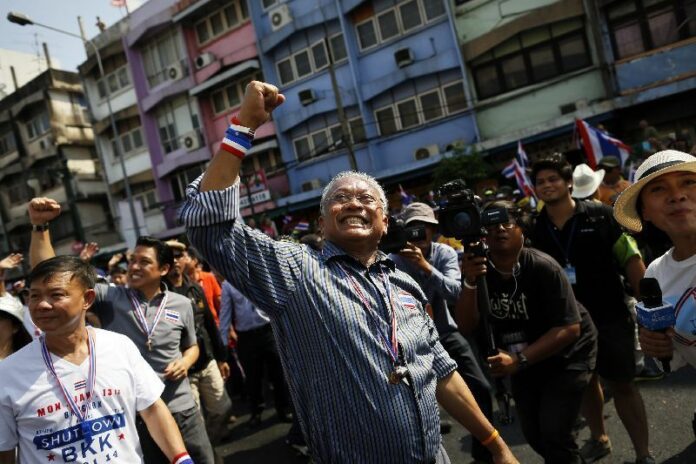 UPDATE: Suthep Thaugsuban has decided to postpone the fundraiser until "the situation is appropriate."
BANGKOK — While Redshirt activists either flee for their lives or submit to military detainment, former leader of the anti-government protests Suthep Thaugsuban is planning a lavish fundraiser.
Mr. Suthep was the leader of the anti-government People's Committee for Absolute Democracy With the King As Head of State (PCAD), which staged six months of street protests in an effort to oust former Prime Minister Yingluck Shinawatra.
This Saturday he is hosting a dinner party, titled "Dinner With Uncle Senior Village Headman [Suthep's Nickname]" to raise money for PCAD supporters who were injured over the the six months of deadly protests.
The fundraiser is being held at Bangkok's Pacific City Club, which describes itself as a "prestigious heritage club for exclusive members" on its website. Each ticket will cost 10,000 baht and only 70 seats will be available, according to Mr. Suthep's announcement.
The announcement comes amid rising criticism that the military regime is overtly favoring Mr. Suthep's political faction over the rival Redshirt movement that supported the former government. The political conflict that culminated with Thailand's 12th military coup d'etat on 22 May pitted mostly rural "Redshirts" from the North and Northeast against Bangkok-based "Yellowshirts" backed by a conservative elite.
Although the military junta has billed itself as a neutral mediator on a mission to "reconcile" society and "de-colourise" Thai politics, so far its actions have largely benefited supporters of the anti-government movement led by Mr. Suthep.
After seizing power last month, the junta's National Council For Peace and Order (NCPO) announced it would undertake over year of national reforms before holding elections in Thailand — a platform identical to what the PCAD had been advocating for months. The pro-government Redshirts on the other hand, had consistently demanded that elections be held before any reforms are pursued.
Over the past few weeks, the NCPO has arrested and detained scores of Redshirt activists, compared to only a handful of "Yellowshirt" PCAD leaders. Many prominent Redshirts have fled the country to avoid persecution at the hands of the junta, and those who have submitted to military detainment have kept a low-profile since their release.
Like other core PCAD leaders, Mr. Suthep is facing charges of insurrection, inciting unrest, and other offences related to the PCAD's six-month campaign against the former government. He has been granted bail release and will be tried in criminal court, although there is no word on when the trial will take place.
Meanwhile, the military has been quick to organize the trials of several Redshirt activists who have committed the much lighter offense of resisting the military's summons orders.
After being released from military custody, Mr. Suthep and other PCAD leaders celebrated the coup with a "birthday party" at an upscale restaurant in Bangkok. Photos of the party-goers wearing military fatigues circulated on social media and reinforced Redshirts' suspicions of a tacit alliance between the military and the PCAD. The PCAD leader who posted the photos has since deleted them.
The dinner party planned for this weekend is bound to anger supporters of the former government as well.
Before he can preside over the fundraiser, Mr. Suthep will undergo an operation at Bangkok Hospital for two days to treat an injury in his right shoulder.
Mr. Suthep said the injury was caused by raising his arm too many times during the six months of prolonged protests.
For comments, or corrections to this article please contact: [email protected]
You can also find Khaosod English on Twitter and Facebook
http://twitter.com/KhaosodEnglish
http://www.facebook.com/KhaosodEnglish