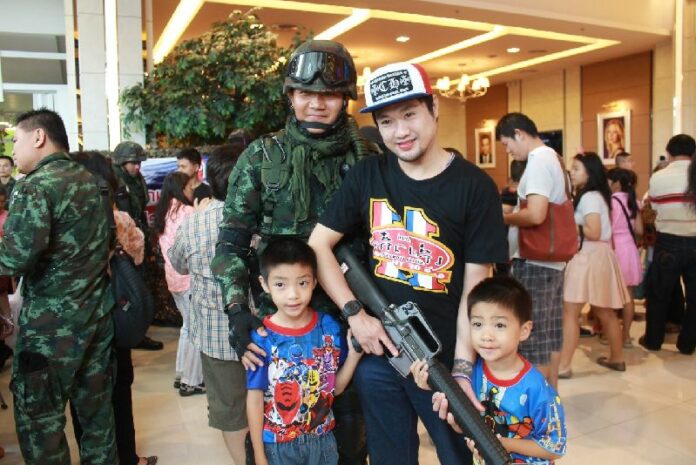 BANGKOK — The Thai military junta says its wants cinemas to organise more free screenings of the nationalist epic film, 'The Legend of King Naresuan 5,' to keep boosting the "happiness" of the public.
On Sunday, the National Council for Peace and Order (NCPO) ordered all cinemas across the country to hold free screenings of the fifth installment of the Legend of King Naresuan, an action film loosely based on the Thai warrior king who fought Burmese armies and "liberated" pre-modern Thailand in 1593.
The NCPO said the free moving screenings are part of its campaign to restore "happiness" to the Thai people.
Thousands of moviegoers rushed to local cinemas yesterday morning to see the film for free, but many were left disappointed after learning that each movie theater only gave out free tickets for one screening per day.
The limited number of tickets led to surging crowds and chaotic scuffles in some movie theaters, leading many observers on social media to cynically comment on the futility of the campaign's stated purpose of bringing "happiness" to the people.
To rectify that problem, NCPO spokesperson Col. Winthai Suwaree said in a press conference today that representatives of the private sector should consider providing more free screenings of the film in the future.
"The NCPO is not a main organiser [of this campaign]. We are merely playing the supporting role," explained Col. Winthai, who stars as King Naresuan's brother in the film. "It depends on the film producers, cinema owners, and private sector to consider the appropriateness."
"We want the civilians to coordinate and push this matter, because the [NCPO] has no duty to interfere with the private sector," Col. Winthai added. He also dismissed the allegation that the NCPO has been plundering the national budget to fund its "populist" campaigns.
Last week, the NCPO paid the Thai entertainment mogul RS 430 million bath relinquish its exclusive rights over airing the 2014 FIFA World Cup matches and allow all army-owned TV channels to broadcast the 64 matches free of charge.
Meanwhile, the Democrat Party's deputy leader, Nipit Intarasombat, expressed horror at the images of Thais struggling with each other to get free Naresuan tickets. He blamed the chaos on the lack of "culture" among Thai population.
"It is time for Thailand to launch a cultural revolution," Mr. Nipit said.
For comments, or corrections to this article please contact:[email protected]
You can also find Khaosod English on Twitter and Facebook
http://twitter.com/KhaosodEnglish
http://www.facebook.com/KhaosodEnglish