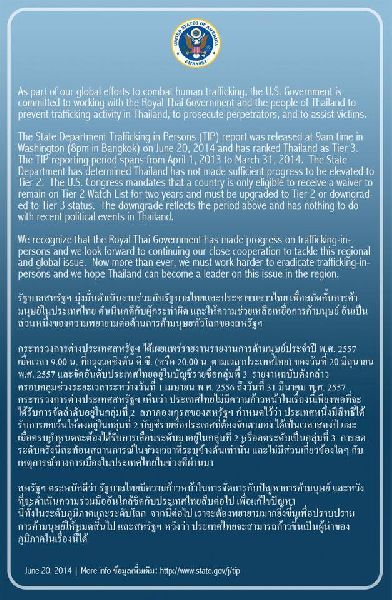 By Cod Satrusayang (DPA)
BANGKOK (DPA) – The United States has downgraded Thailand in its annual human trafficking report after revelations of slavery in the country's shrimp industry.
Thailand was downgraded to the lowest rank in the State Department's Trafficking in Persons report (TIP), putting it on the same level as Iran, Cuba, Zimbabwe and North Korea.
The report cites the recruitment of young women into the sex trade, slavery within the seafood industry, as well as the trafficking of Rohingya refugees from Myanmar.
The report points to corruption as a major barrier to fighting such abuses, adding that officials and police were in many cases complicit in forced labour and sex slavery.
The military junta which governs Thailand has acknowledged that trafficking is a real problem. In his weekly address to the nation on Friday, junta leader Prayuth Chan-Ocha stated that the government was working to "address the issue."
In a meeting with the US ambassador, Thailand's acting foreign minister stressed that the country places "great importance on combatting and eradicating human trafficking."
An expose in Britain's Guardian newspaper last week revealed that Thailand's shrimp farmers were buying feed made from fish caught using forced labour.
"Large numbers of men [are] bought and sold like animals and held against their will on fishing boats off Thailand," the report stated.
Last week Thailand was the only country to vote against a motion that would enforce the International Labour Organization's convention against slave labour, citing that local conditions may not be ready to implement such a measure.
The reaction from NGOs and rights groups was harsh, with the executive director of the Environmental Justice Foundation calling the decision an "absolute disgrace and one that brings further shame on to an already embattled government."
Thailand subsequently rescinded its abstention and voted in favour of the protocol.
Thailand's downgrade to the lowest tier of the TIP report means that it may face economic sanctions and the withdrawal of aid.
Multinational companies will now be encouraged to stop trading in industries where forced labour may play a role.