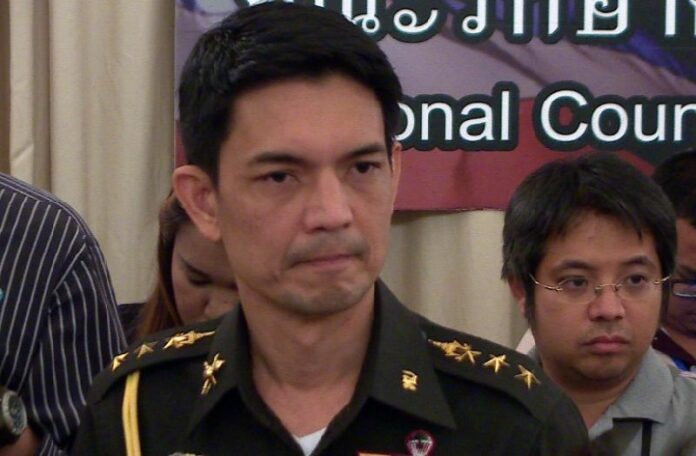 BANGKOK — A military spokesperson has reportedly claimed the army is detaining a Redshirt activist at an undisclosed location so she can meditate without any distractions from the outside world.
Kritsuda Khunasen, 27, was arrested by soldiers on 28 May in Chonburi province, according to a number of activists. She has been missing for three weeks, which exceeds the seven-day limit under martial law on detaining individuals without charges.
The military's silence up until now has invited criticism from international rights groups such as the New York-based Human Rights Watch (HRW), which released a statement on 18 June urging the authorities to clarify Ms. Kritsuda's whereabouts.
Col. Winthai Suwaree, a spokesperson of the military junta's National Council for Peace and Order (NCPO), said yesterday that HRW does not need to worry because the military has merely provided Ms. Kritsuda with a safe haven "away from all the chaos and distraction," according to a Facebook post by Bangkok Post's self-styled "military reporter" Wassana Nanuam.
In the Facebook post, Ms. Wassana quotes Col. Winthai as saying that the military has detained Ms. Kritsuda to help her "meditate, restore consciousness, and reconsider many things, so that we can adjust [her] understanding."
Col. Winthai did not say how long Ms. Kritsuda will be held in detention, but perplexingly said the military does not detain people for more than seven days, despite Ms. Kritsuda's three-week absence.
Ms. Kritsuda does need access to a lawyer because the military has not charged her with any crimes, Col. Winthai added, according to the Facebook post by Ms. Wassana. Nevertheless, Col. Winthai said Ms. Kritsuda was detained out of suspicion that she may have incited unrest and violated the Computer Crime Acts during her tenure as a Redshirt activist.
Col. Winthai's statement is the first public acknowledgement by an NCPO official that the military has detained Ms. Kritsuda. Previous efforts by Khaosod to secure comments from military officers concerning her whereabouts have failed, as all of the officers have refused to speak about the case.
Prior to her detention, Ms. Kritsuda was a public advocate of the Redshirt movement, which supported the government overthrown in a military coup on 22 May. For the past several years, Ms. Kritsuda has been providing humanitarian and legal support to other Redshirt activists that have been charged and detained for their alleged involvement in violent Redshirt political protests in 2010.
Since it staged the coup against the elected government on 22 May, the NCPO has summoned and detained more than 300 politicians, activists, and academics. A vast majority of those summoned are allied to the Redshirt movement.
Most of the detainees have been released shortly after they turned themselves in. So far, Ms. Kritsuda is the only known case of a detainee that has not been released after seven days.
Despite concerns raised by human rights groups, Col. Winthai reportedly urged the public to rest assured that the NCPO's detention of individuals without charges is in accordance with international human rights standards.
"We want to stress again that the summoning procedure does not treat these individuals as someone who committed a crime. Please rest assured. This procedure still upholds the principle of human rights. If you have been following the news, you will discover that no one has felt anything negative toward to the officials' treatment. There is no nature of suffering. Everyone understands and is willing to cooperate with the NCPO."
"The invitations [summons] are not meant to create an atmosphere of fear as understood [by some people]," Col. Winthai added.
So far, there have been no reports of detainees being physically mistreated by NCPO officials, but a number of people have cited being subject to intimidation and aggressive interrogation while held in military custody.
In addition, before being released most detainees are required to sign a document promising to say they were "well-treated" and "not harmed or intimidated, coerced, misled, tortured, or forced to give promise or commit any inappropriate act" by security officers during their time in detention.
For comments, or corrections to this article please contact: [email protected]
You can also find Khaosod English on Twitter and Facebook
http://twitter.com/KhaosodEnglish
http://www.facebook.com/KhaosodEnglish