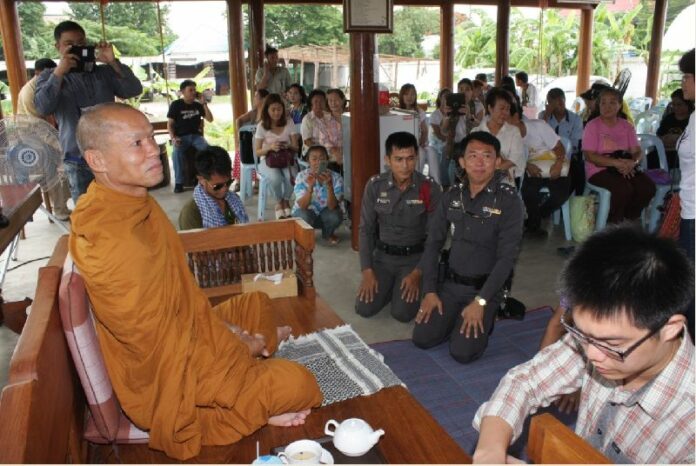 BANGKOK — The militant monk who co-led the six-month protest campaign against the former government has called on fellow activists to "stay quiet" and allow the military junta to do its work.
Buddha Issara delivered the comments while giving blessings to a crowd of supporters, including some military and police officers, at his residence in northern Bangkok this morning.
"The atmosphere in the country is going well, they should not ruin the atmosphere," Buddha Issara said, referring to other leaders of the People's Committee for Absolute Democracy With the King As Head of State (PCAD).
Buddha Issara said that unguarded comments from PCAD leaders may cause more trouble for the military junta's National Council for Peace and Order (NCPO) and obstruct its mission to reconcile Thailand's divided society.
"If they are lonely or feeling unemployed, they should plant trees or clean rubbish in the river," the monk advised.
His comments came several days after PCAD leader Suthep Thaugsuban reportedly told supporters at an exclusive dinner party that he and the leader of the 22 May coup, Gen. Prayuth Chan-ocha, had been plotting to overthrow the government of Prime Minister Yingluck Shinawatra for years.
Mr. Suthep also claimed that Gen. Prayuth closely coordinated with the PCAD leaders throughout their six-month campaign to oust Ms. Yingluck. According to Mr. Suthep, Gen. Prayuth offered to stage the coup because PCAD protesters had become exhausted from their prolonged street protests.
Mr. Suthep's revelation was swiftly denied by NCPO officials, who insisted that the army staged the coup to avoid further bloodshed and resolve the country's political paralysis. Still, many Redshirt who supporters of the former government have interpreted Mr. Suthep's comments as evidence of the suspected alliance between the military and the anti-government protesters prior to the coup.
Buddha Issara added that he is working on a petition to have his insurrection charges revoked. The monk was charged with the crime earlier this year for his role in the PCAD's disruptive protest activities, which included storming governmental buildings, blocking major roads, and intimidating the media.
The petition will inform officials that Buddha Issara does not believe his actions amount to insurrection, the monk said.
For comments, or corrections to this article please contact: [email protected]
You can also find Khaosod English on Twitter and Facebook
http://twitter.com/KhaosodEnglish
http://www.facebook.com/KhaosodEnglish