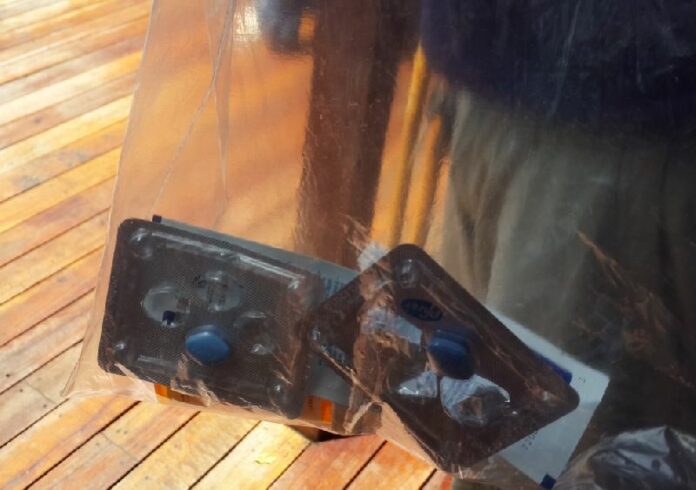 SURAT THANI — A 27-year-old American woman was found dead along with a number of narcotics in her room at a luxury resort on Koh Samui island yesterday, police say.
The body of Emily Potter was found after hotel staff heard her boyfriend wailing and decided to inspect their hotel room, according to police reports.
Ms. Potter appeared to have passed away while she was laying on a sofa on her room's private balcony, said Pol.Cpt. Udomsak Thappa, adding that there was no indication that her death was caused by violence.
"We believe she had been dead for 2-3 hours before the staff found her," Pol.Cpt. Udomsak said.
Her boyfriend was identified as a British citizen named Geoffrey John Hanley (transcribed from Thai text).
A police search of the room turned up a small packet of cannabis, Viagra pills, a pair of handcuffs, a whip, an empty bottle of vodka, and a small packet containing what police suspect to be cocaine.
According to Olarn Chantho, a butler at the hotel, the couple checked in on 22 June and were supposed to check out on 27 June, but decided to extend their stay to 29 June "because they liked the atmosphere." On the night before Ms. Potter was found dead, she was seen having dinner with Mr. Hanley at 7 pm before retiring to their bedroom later in the evening, Mr. Olarn said.
Mr. Olarn said Mr. Hanley called the front desk at 7 am the next morning and said he and his girlfriend would like to use the hotel's spa room at 10 am. However, at 9.30 am some hotel guests heard Mr. Hanley's screams, prompting hotel staff to check his room and find Ms. Potter's body, Mr. Olarn said.
According to the police, Mr. Hanley said he and his girlfriend drank alcohol in their private swimming pool after dinner until they became heavily intoxicated and fell unconscious. When Mr. Hanley woke up on the next morning, he saw Ms. Potter sleeping on the sofa-bed and called Mr. Olarn to arrange the spa room for both of them, police say.
Mr. Hanley only realised that Ms. Potter was dead when he tried to wake her up, said Pol.Cpt. Udomsak. He said Mr. Hanley refused to give testimony about the substances police found in their hotel room.
Pol.Cpt. Udomsak said the police suspect that Ms. Potter died from an overdose of narcotics and binge-drinking. Ms. Potter's body has been sent to Koh Samui Hospital for autopsy, and the US Embassy has already been contacted about her death, Pol.Cpt. Udomsak said.
Police say Mr. Hanley will be prosecuted if lab results reveal that he was using narcotics.
For comments, or corrections to this article please contact: [email protected]
You can also find Khaosod English on Twitter and Facebook
http://twitter.com/KhaosodEnglish
http://www.facebook.com/KhaosodEnglish