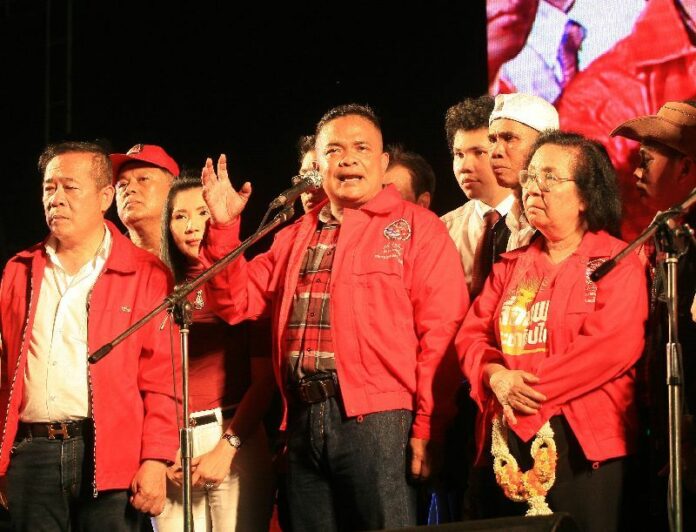 BANGKOK — A former supporter of the Redshirt movement was found guilty of defaming Redshirt leader Jatupon Prompan in criminal court today.
Methee Amornwutthikul was given to a two year suspended prison term and a fine of 66,000 baht this morning for slandering Mr. Jatupon, the chairman of the Redshirt umbrella group United Front of Democracy Against Dictatorship (UDD).
According to prosecutors, Mr. Methee accused the UDD leader of embezzling more than 68 million baht in donation money and engaging in "inappropriate" behaviour with a woman on a public beach.
The prosecutors said these remarks were false and gravely damaged Mr. Jatupon's reputation.
In the verdict delivered today, judges at the Ratchadapisek Criminal Court in Bangkok said that Mr. Methee said he heard the accusations from another UDD leader and had no further evidence to substantiate the claims. Mr. Methee's action therefore amounted to spreading false information and misleading the public, the judges ruled.
Apart from the suspended jail term and fine, Mr. Methee is also required to publish an apology to Mr. Jatupon in newspapers for three days.
Mr. Methee, a former UDD member, fell out of favor with the Redshirt group when he accused the it of harbouring armed militant groups during UDD protests in Bangkok in 2010.
More than 90 people were killed in the 2010 political unrest, which ended in a military crackdown. Most of the casualities were civilians, although some soldiers also died at the hands of "blackshirt" militants allied to the protesters.