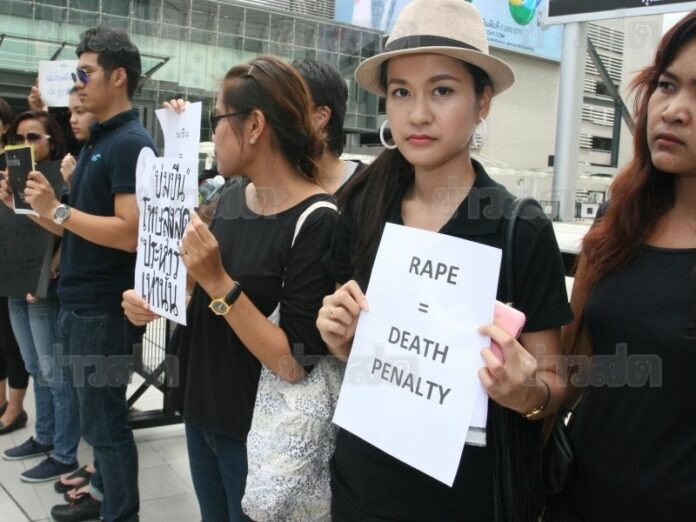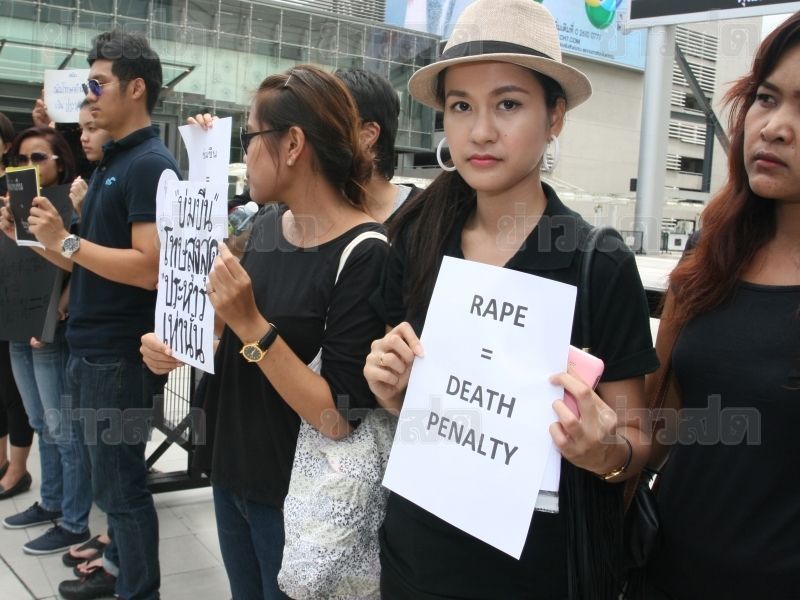 BANGKOK — Activists in favour of punishing convicted rapists with the death penalty staged a rally in downtown Bangkok today despite the military junta's warning that doing so would violate martial law.
Black-clad activists showed up at the fountain plaza in front of Siam Paragon shopping mall at around 11 am today and held signs advocating for the execution of convicted rapists.
The protest was sparked by the rape and murder of a 13-year-old girl aboard an overnight train last Sunday. An employee of the State Railway of Thailand (SRT) was arrested several days after the incident and reportedly confessed to sexually assaulting the girl and throwing her body out of the moving train.
Although the suspect, Wanchai Saengkhao, will likely face death penalty due to his murder charge, the case has ignited an online campaign in favor executing all convicted rapists in order to deter sexual assailants in Thailand.
Today's rally was organised by the Facebook page, "We want death penalty for rape cases."
The administrator of the Facebook page, Salita Pongsawat, 23, spoke at today's rally.
"I want all societies in the world to be aware of importance of punishment for sexual crimes," Ms Salita said. "I don't want this kind of case to happen ever again."
According to Ms. Salita, those who assist rapists should also face the death penalty and courts should never reduce the sentences of rapists who confess.
"There should be no leniency because if the perpetrators had hearts of humans and conscience, they would not have committed the crime when the victims plead for their lives," Ms. Salita said.
She added that an online petition to enforce the death penalty for all rapists has garnered more than 30,000 signatures and will eventually be submitted to the ruling National Council for Peace and Order (NCPO) by Thai actress Panadda Wongpoodee, another prominent supporter of death penalty for rape cases.
Selective ban on protests
Today's rally was held in direct defiance of the NCPO's ban on public gatherings, which has been in place since the army staged a coup on 22 May.
NCPO spokesperson Col. Winthai Suwaree warned several days ago that a rally in support of the death penalty would violate the ban. He suggested that the group submit a proposal to change the criminal code to the NCPO instead.
Scores of police officers monitored the pro-death penalty protest from afar today, but there were no attempts to stop or arrest the participants.
Several undercover police officers reacted, however, to a black-clad woman who displayed the anti-coup "pigeon" hand gesture next to the pro-execution activists. She left the scene shortly afterwards, trailed by the undercover police officers. Her fate is not immediately known.
The NCPO has harshly enforced its ban on public gatherings against protesters who participate in any kind of anti-coup demonstrations, including flashing the three-finger salute, reading George Orwell's 1984, or eating sandwiches. Those who violate the NCPO's ban on protests may face a trial in military court and up to two years in prison.
However, the NCPO has not made a single arrest of anyone participating in a pro-coup or pro-army rally, including the man who showed up in front of the US Embassy in Bangkok on 29 July to protest the American government's criticism of the 22 May coup.
In contrast, the police issued an arrest warrant on an anti-coup activist who placed a placard that read "Long Live the USA" in front of the embassy compound on 4 July. She has since been released without charges after being held in military custody for four days.
Ms. Panadda, the pro-execution actress, has not yet been approached by authorities for leading a pro-death penalty demonstration at a train station in Nakhon Ratchasima province on 10 July.
Read more:
Rape-Murder Suspect Exposes State Railway's Shortcomings
Editorial: Death Penalty Is Not The Solution To Rape
For comments, or corrections to this article please contact: [email protected]
You can also find Khaosod English on Twitter and Facebook
http://twitter.com/KhaosodEnglish
http://www.facebook.com/KhaosodEnglish