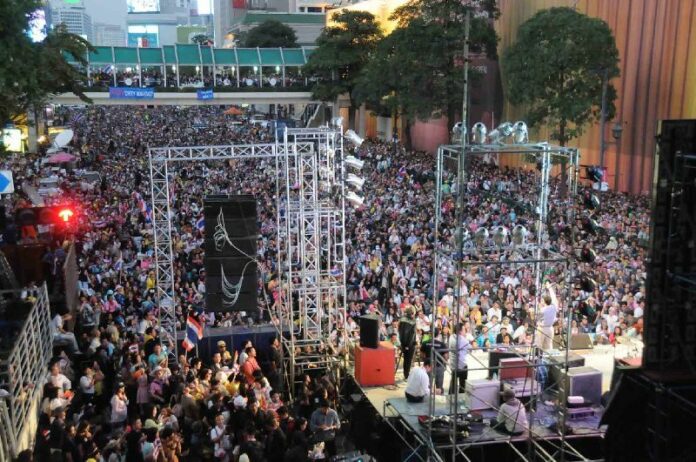 BANGKOK — Police have issued arrest warrants for seven suspects behind the deadly grenade attack on anti-government protesters in February.
Two children and one 59-year-old woman were killed when unknown assailants launched a grenade at the rally site of the People's Committee for Absolute Democracy With the King As Head of State (PCAD) at Ratchaprasong Intersection on 23 February. Twenty-one people were also injured by the blast, which police believe was caused by an M79 grenade.
At the time, the PCAD was halfway through its six-month street campaign to topple the government of then-Prime Minister Yingluck Shinawatra, whom protesters accused of being controlled by her "corrupt" "anti-monarchy" brother and former prime minster Thaksin Shinawatra.
Today Pol.Gen. Somyot Pumphanmuang, deputy commander of the Royal Thai Police, said courts have approved the arrest warrants of the following seven suspects: Taweechai Wichakam, 39; Suthorn Pipuannok, 49; Susak Lomwong, 32; Somsri Marit, 40; Kannika Wongtua, 38; Wichian Supirom, 33; and Chatchawan Prapbumrung, 45.
All of the suspects have been charged with premeditated murder, causing explosions with intention to harm other people, carrying and using explosive devices without a permit, possessing firearms and ammunition without a permit, carrying weapons into residential areas without due cause, firing explosives in residential area without due cause, and violating the Internal Security Act, which was imposed over Bangkok at the time.
Pol.Gen. Somyot confirmed that all suspects are civilians, but would not say whether they belong to any political groups.
"We are still interrogating the people involved," Pol.Gen. Somyot said. "We also have to investigate how the suspects managed to acquire the weapons."
Pol.Gen. Somyot added that he could not provide additional details about the suspects and criticised other police officers for sharing too much information about criminal cases with the media.
"I already stressed to all the police officers that they should not publicise the methods of investigation, because it's like teaching criminals to understand the work of the police. It will make the work harder for the police," he said.
Almost 30 people were killed in shootouts and grenade attacks on PCAD protest sites throughout its six month campaign against Ms. Yingluck, which ended in a military coup on 22 May.
The coupmakers, led by army chief Gen. Prayuth Chan-ocha, insisted that the military intervention was necessary to prevent further bloodshed between the PCAD and rival pro-government political groups that were also staging rallies in Bangkok at the time.
For comments, or corrections to this article please contact: [email protected]
You can also find Khaosod English on Twitter and Facebook
http://twitter.com/KhaosodEnglish
http://www.facebook.com/KhaosodEnglish