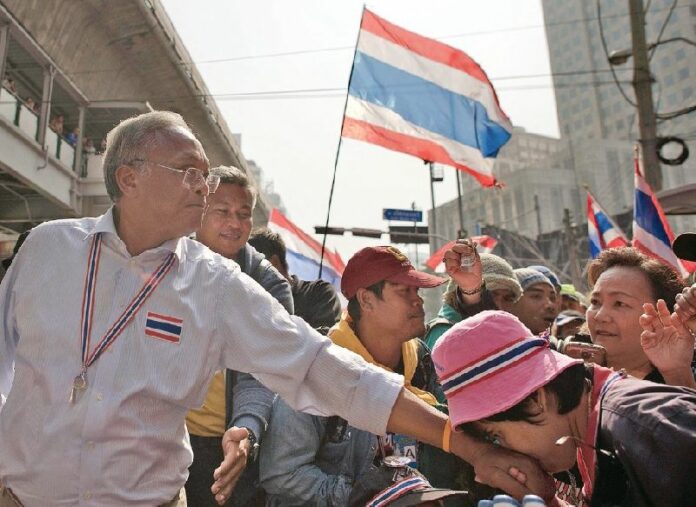 SURAT THANI — Former anti-government protest leader Suthep Thaugsuban surprised many by appearing as a monk today, raising speculation that he is joining a long tradition of political leaders seeking asylum in the monkhood.
Many villagers in Lamet district were baffled to see Mr. Suthep in saffron robes with his head and eyebrows shaven, as is the Buddhist tradition, collecting alms alongside other monks near Than Nam Lai Temple in Surat Thani this morning.
Mr. Suthep and other monks walked for about one kilometre to collect food donations before returning to their secluded temple. Only one temple assistant was seen accompanying Mr. Suthep throughout the journey.
Starting last November, the former deputy chairman of the Democrat Party spent six months as the firebrand leader of the People's Committee for Absolute Democracy With the King As Head of State (PCAD) in its effort to topple the government of Prime Minister Yingluck Shinawatra and replace it with an unelected people's council to carry out unspecified "national reforms."
Mr. Suthep, who is now known by his Buddhist name "Paphakaro," did not announce his intention to be ordained as a monk. Media reports also indicate that people close to Mr. Suthep were surprised by the sudden move.
Monkhood as asylum
Although Mr. Suthep has not publicly stated his reasons for becoming a monk, Thailand has a history of political leaders joining the monkhood to avoid assassination or revenge following periods of upheaval in the country's politics. Killing monks is considered a grave sin in Buddhist cosmology.
Prominent examples in Thailand's pre-modern history include King Maha Chakkraphat, who briefly sought exile in the monkhood in 1538 after a coup was staged against his dynasty, and King Rama IV, who spent 27 years as monk before he was crowned King of Siam to avoid a conflict of interest with his brother, King Rama III.
A more recent example is Sondhi Limthongkul, the controversial leader of the ultra-royalist People's Alliance for Democracy (PAD), the predecessor of the PCAD that campaigned against Ms. Yingluck's brother, former Prime Minister Thaksin Shinawatra, starting in 2005.
Mr. Sondhi entered the monkhood in 2007, a year after Mr. Thaksin's administration was overthrown in a military coup that the PAD's protests helped engineer. Prior to his ordination, Mr. Sondhi made controversial remarks claiming that members of the Thai Royal Family were supportive of the PAD's quest against Mr. Thaksin, who the PAD had accused of being an "anti-monarchy tyrant."
Mr. Sondhi eventually returned to secular life and nearly died life in 2009, when unknown assailants fired a full magazine of bullets from an automatic rifle at his car in Bangkok. The perpetrators were never found.
Many critics of Mr. Suthep have likened his ordination to that of Mr. Sondhi. Last month, Mr. Suthep caused an uproar when he told a gathering of PCAD donors at an exclusive club that he had been conspiring with army chief Gen. Prayuth Chan-ocha to overthrow Thaksin-allied governments since 2010.
Gen. Prayuth, who led the coup against Ms. Yingluck's government on 22 May, insisted that the coup was necessary to prevent further bloodshed and maintained that he did not take any sides in the country's political conflict. However, since seizing power, the military junta has taken up the centerpiece of the PCAD's platform: instituting a series of "national reforms" before the next election is held.
According to Gen. Prayuth, an interim government will be formed in September and tasked with reforming the country's constitution. A year later, elections will be held if conditions are deemed stable.
Ekkanat Prompan, a close aide of Mr. Suthep during the anti-government campaign, was also ordained as a monk shortly after the 22 May coup.