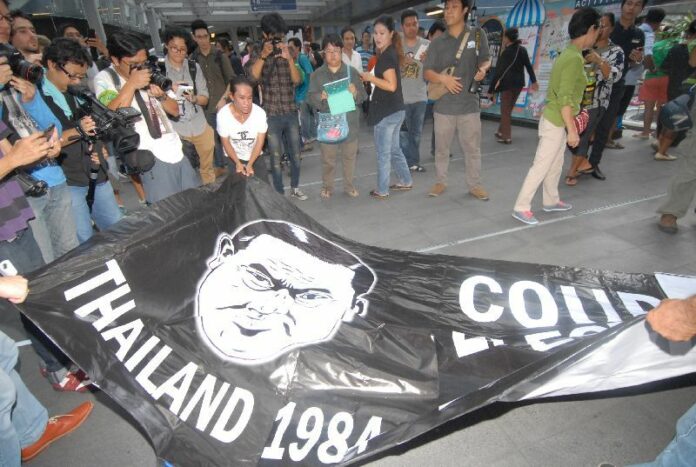 BANGKOK — Thailand's military junta has issued a fresh announcement reiterating its restrictions on freedom of speech.
The National Council For Peace and Order (NCPO) banned any form of criticism against its members and its missions shortly after staging a coup on 22 May.
In a televised announcement today, the NCPO reminded all media agencies, "both state- and private-owned," to refrain from publishing any of the following content:
(1) False information that tends to be libelous, or incite hatred against the monarchy, the Designated Heir to the Throne, and all members of the Royal Family.
(2) News that are detrimental to the national security or libelous against other individuals.
(3) Criticism of operations of the National Council for Peace and Order, its officials, or any related individual.
(4) Audio, images, or videos that contain secrets of operations of any bureaucratic agency.
(5) News or information that causes confusion, incites disputes, or leads to disunity in the Kingdom
(6) Invitation or plotting to organise in manner that may lead to resistance against officials or individuals related to the National Council for Peace and Order
(7) Threats to harm individuals that may panic or frighten the public.
Failure to adhere to these rules will result in censorship, the announcement says. The junta added that law enforcement officials will also pursue legal action against the violators.
The rules apply to all types of media agencies, such as newspapers, magazines, television, radio, and "online social media."
The media is also forbidden from interviewing or giving a platform to "academics, former bureaucrats, and those who had worked in the court, the legal systems, and independent agencies" who might escalate the country's political conflict, distort information, or confuse the public.
Furthermore, the announcement advised all provincial governors, bureaucrats, and police to crack down on any public protests against the NCPO in a swift manner.
For comments, or corrections to this article please contact: [email protected]
You can also find Khaosod English on Twitter and Facebook
http://twitter.com/KhaosodEnglish
http://www.facebook.com/KhaosodEnglish