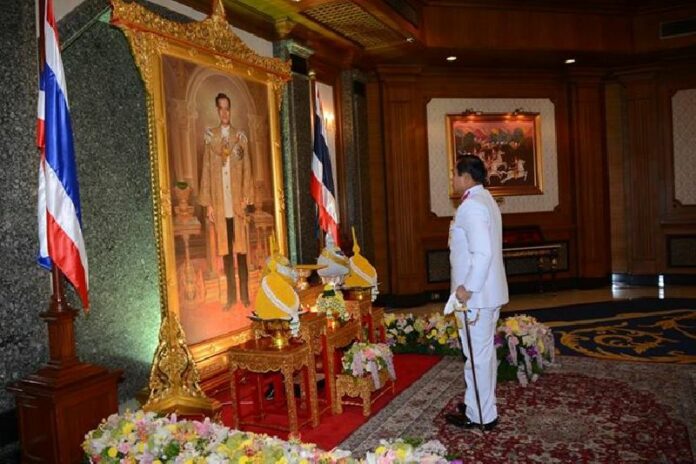 BANGKOK — The leader of Thailand's military junta is scheduled to meet His Majesty the King to seek royal approval for an interim constitution this evening, reports say.
According to a notice issued by the Bureau of the Royal Household, Gen. Prayuth Chan-ocha, chairman of the National Council for Peace and Order (NCPO), will be granted audience with King Bhumipol at his seaside retreat, Klai Kangwon Palace in in Prachuap Kiri Khan province, at 5 pm.
His Majesty the King will sign and bestow the interim charter to Gen. Prayuth in the same ceremony, the notice reportedly says.
Today's meeting is the first known occasion that Gen. Prayuth will meet His Majesty the King in person since the general led a coup against the elected government on 22 May.
Gen. Prayuth previously received a royal endorsement of the coup in a ceremony on 26 May that His Majesty the King did not attend; the 86-year-old monarch, who is in frail health, has been residing at Klai Kangwon Palace and rarely makes public appearances.
Although Gen. Prayuth has not publicly disclosed the details of the interim constitution, a report on Prachachart newspaper, quoting an official, states that the charter will consist of 48 articles and calls for a 220-member National Legislature Assembly and 200-member Reform Council.
Under the charter, NLA members will submit the name of a new Prime Minister to His Majesty the King for approval, while the NCPO will retain "equal administrative power" to the new government, Prachachart reports.
According to Gen. Prayuth, the interim government will govern the country until next October, when new elections will be held if Thailand's political situation is deemed stable.
For comments, or corrections to this article please contact: [email protected]
You can also find Khaosod English on Twitter and Facebook
http://twitter.com/KhaosodEnglish
http://www.facebook.com/KhaosodEnglish