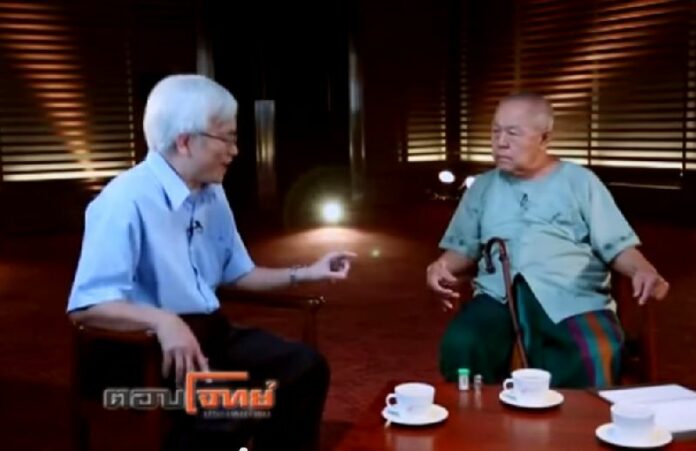 BANGKOK – The state media regulator has fined Thai PBS channel for broadcasting discussion about Thai monarchy, a taboo subject in Thailand.
The National Broadcasting and Telecommunications Commission (NBTC) says today that the state-owned TV channel violates media laws by its decision to air episodes of a talk show called Tob Jote (Answering Questions) in March last year.
The episodes, presented in a series called "Monarchy and Constitution", featured a number of historians and politicians talked with well-known TV host Pinyo Traisuriyathamma about the roles of the Royal Family in modern history.
The most controversial episodes were the debates between Thammasat University historian and regular critic of Thai monarchy Somsak Jiamteerasakul and prominent royalist writer Sulak Sivalak, in which Mr. Somsak argued that the power in the hand of Thai monarchy far exceeds the acceptable limit of a modern constitutional monarchy.
According to the NBTC, the episodes violate Article 37 of the 2008 Broadcasting Act, which prohibits dissemination of "content which leads to the overthrow of the constitutional monarchy system of government, or affects national security, public order and morality, or content containing nudity, causing decadence or seriously harming public health."
The NBTC also fined Thai PBS 50,000 baht in accordance with the law.
Discussion about the monarchy in political context is a taboo in Thailand, where remarks deemed critical of libelous toward the Royal Family are punishable with up to 15 years in prison under Article 112 of the Thai Criminal Codes (known as the lese majeste law).
Although Mr. Somsak regularly criticised the Thai monarchy and lese majeste laws via his articles and Facebook posts, media agencies in Thailand very rarely publish his writings, and Thai PBS' Tob Jote was the first instance Mr. Somsak could air his controversial views on a state media agency.
In response, more than 500 royalists protested at the Thai PBS headquarters and demanded the channel executives to refrain from broadcasting the rest of episodes in the "Monarchy and Constitution" series. The channel conceded, and Mr. Pinyo later announced that the show Tob Jote had been discontinued altogether.
Mr. Somsak has been in hiding since the pro-monarchy military junta staged the coup on 22 May and summoned the academic to report to the military. The junta's National Council for Peace and Order (NCPO) later revoked Mr. Somsak's passport for defying its summon order.
For comments, or corrections to this article please contact: [email protected]
You can also find Khaosod English on Twitter and Facebook
http://twitter.com/KhaosodEnglish
http://www.facebook.com/KhaosodEnglish