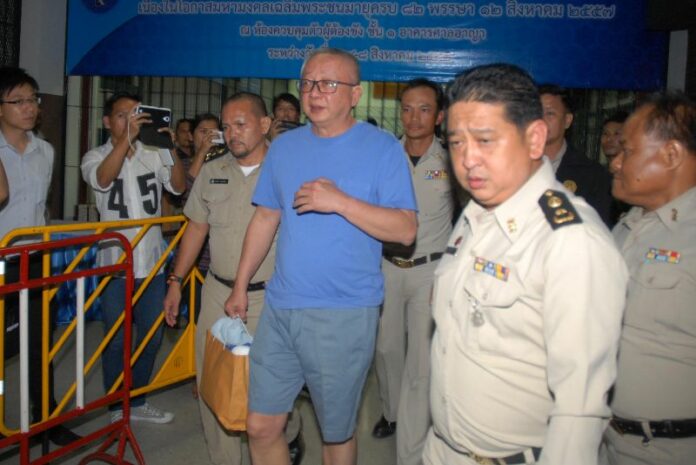 BANGKOK — The founder of Yellowshirt movement, Sondhi Limthingkul, was convicted of fraud today and will spend a day in the prison where dozens of Redshirt activists are currently being held, an official said.
"He will be held at Section One, where Redshirt prisoners are also held," said Sorasith Chongcharoen, director of Bangkok's Remand Prison.
Mr. Sondhi was found guilty of fraud and falsifying loan documents by the Court of Appeals today and sentenced to 20 years in prison. The court rejected his request for a release on bail, forcing him to stay in prison until the Supreme Court rules otherwise.
In 2006, Mr. Sondhi founded a protest group known as the People's Alliance for Democracy (PAD), which later became known as the Yellowshirts for adopting yellow – the King of Thailand's personal colour – as their symbol. A power struggle between the Yellowshirts and a rival political faction known as the "Redshirts" has destabilized Thailand's politics for almost a decade.
However, Mr. Sorasith said he believes Mr. Sondhi "will have no problem" during his stay in Bangkok Remand Prison despite the presence of rival political activists. Prison wardens will be able monitor the movement of inmates via CCTV cameras installed the cells, Mr. Sorasith said.
"The officials will be on alert to prevent any conflict that arises from the cohabitation."
He added that Mr. Sondhi will only spend a day at Bangkok Remand Prison.
"He will be moved to Klong Prem Central Prison because his term is longer than 15 years," Mr. Sorasith said. "It is beyond the jurisdiction of Bangkok Remand Prison."
According to Mr. Sorasith, Mr. Sondhi has already been given a manual about life in prison and a bag of "essential equipment."
Section One of Bangkok's Remand Prison has held dozens of political activists in recent months, including anti-coup protesters, alleged lese majeste offenders, and militant protesters associated with the Yellowshirt movement that campaigned against the government of former Prime Minister Yingluck Shinawatra earlier this year.
Sombat Boon-ngarmanong, aka the Dotted Editor, was arrested in June for organising anti-coup protests and spent several weeks in Section One. After he was released on bail, Mr. Sombat wrote an account on Twitter describing how many Redshirt and Yellowshirt inmates mixed amicably inside the prison's walls.
Mr. Sombat also described meeting and befriending a Yellowshirt-allied activist, known as the "Popcorn Gunman," who has been accused of shooting at Redshirt protesters on 1 February, 2014.
For comments, or corrections to this article please contact: [email protected]
You can also find Khaosod English on Twitter and Facebook
http://twitter.com/KhaosodEnglish
http://www.facebook.com/KhaosodEnglish