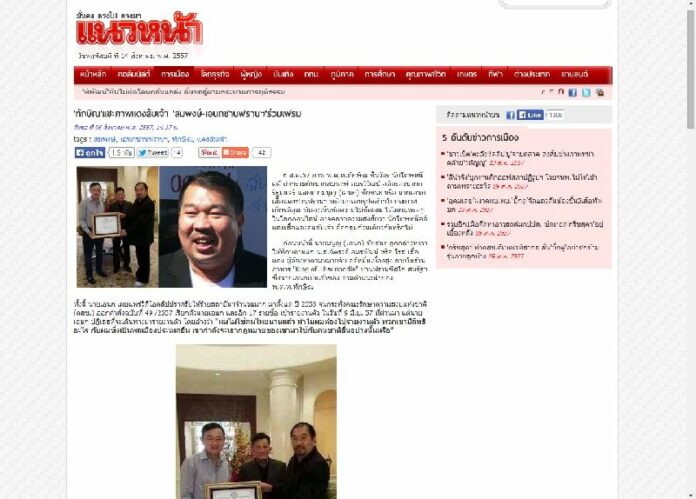 BANGKOK — Former Prime Minister Thaksin Shinawatra is seeking legal action against an ultra-royalist Thai newspaper that accused him of associating with anti-monarchy activists last week.
Mr. Thaksin's lawyer, Winyat Chartmontri, says the former leader is suing Naewna newspaper for libel and violating the Computer Crime Act, which criminalises disseminating false information through computer systems.
The lawsuit is over an article published on the newspaper's website on 9 August that includes a photo of Mr. Thaksin with Anek Chaichana, a Thai-born Redshirt activist who is currently residing in the United States.
Mr. Anek is thought to have appeared in a controversial anti-monarchy video that was uploaded earlier this month and blocked almost immediately by Thai authorities. A separate lese majeste (insult of monarchy) charge was also filed against Mr. Anek by Buddhist monk and conservative activist Buddha Issara. Under Thai law, those found guilty of criticising the monarchy can face up to 15 years in prison.
The Naewna article alleged that the photo was proof that Mr. Thaksin and Mr. Anek know each other personally. The article also accused Mr. Thaksin of advising Mr. Anek, who reportedly owns a Thai restaurant in San Francisco, to take in another anti-monarchy activist, Chatwadee Amornchat, during her visit to the US.
Mr. Thaksin and his Redshirt supporters are routinely portrayed as anti-monarchists by the rival "Yelloshirt" political faction, which mostly consists of royalists and conservative elite.
Mr. Winyat, Mr. Thaksin's lawyer, denied the accusation.
"The fact is: Mr. Thaksin is someone who is very loyal to the monarchy," Mr. Winyat told Khaosod.
He explained that the photo published by Naewna is misleading, because Mr. Thaksin is a public figure that all kind of people want to have their photos taken with.
"It's an old photo," Mr. Winyat insisted, "And Mr. Thaksin is not related to any action that insults the monarchy."
The lawyer continued, "Each person should be responsible for their own action. It is not related to Mr. Thaksin at all. I would like to call on the movement that aims to undermine Mr. Thaksin to stop this behaviour of linking different things to accuse [Mr. Thaksin] of being a member of anti-monarchy movements."
Attempts to overthrow the monarchy are punishable by death under Thai law.
For comments, or corrections to this article please contact: [email protected]
You can also find Khaosod English on Twitter and Facebook
http://twitter.com/KhaosodEnglish
http://www.facebook.com/KhaosodEnglish