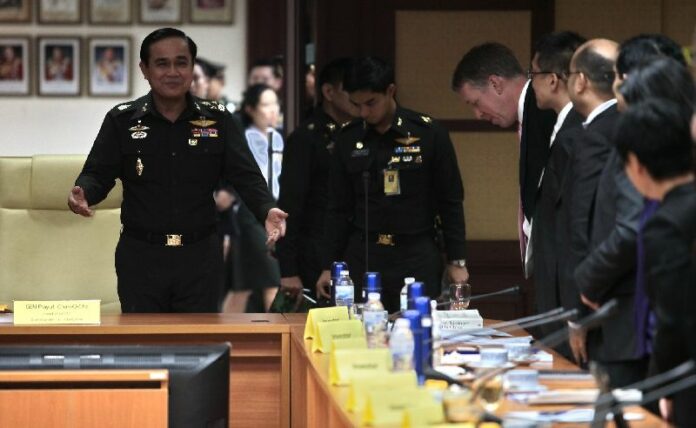 BANGKOK — Prominent members of the National Legislative Assembly (NLA) say a majority of the assembly's members plan to elect the chairman of Thailand's military junta, Gen. Prayuth Chan-ocha, as the country's new Prime Minister.
According to Gen. Noppadol Intapanya, one of 115 military and police officers appointed to the 200-seat assembly, "most of" the body's members agree that Gen. Prayuth should take the premiership.
"I think Gen. Prayuth is the most appropriate choice for the leader of the country," said Gen. Noppadol. "Gen. Prayuth has devoted his ability and knowledge to help Thailand move forward. I do not know anyone else can match his capability."
Another NLA lawmaker, Jate Sirataranon, also confirmed yesterday that he will give his vote to Gen. Prayuth. Mr. Jate, a former appointed senator, actively campaigned against the government Gen. Prayuth toppled in the 22 May coup.
"I think Gen. Prayuth will be voted in unanimously," Mr. Jate said, "Because over the past three months, Gen. Prayuth's works have proven him to be a good working man."
Opinion surveys show that Gen. Prayuth has also won the hearts of the Thai people, Mr. Jate added.
The vote to elect a new Prime Minister is expected to take place on 21 August, according to the NLA's deputy president, Peerasak Porchit.
Under the junta-drafted 2014 charter, the NLA will act as the country's legislative body until a new general election is expected to be held at the end of 2015. The members of the assembly were handpicked by Thailand's military junta, which has reserved supreme power over the interim government.
Article 20 of the 2014 interim charter states that the new Prime Minister must be Thai, older than 40 years of age, and not a member of any political party in the past three years. The charter does not forbid active military officers from being appointed Prime Minister, but it does bar judges, attorneys-general, Election Commissioners, state treasury auditors, and National Human Rights Commissioners from taking the premiership.
If Gen. Prayuth does not take the office, he will still maintain supreme power over the interim government. Article 44 of the provisional constitution grants the NCPO chairman sweeping power to "order, suspend, or take action regardless of its effect on the legislative, executive, or the judiciary."
Gen. Prayuth is set to retire from his post as army commander-in-chief on September 30.
For comments, or corrections to this article please contact: [email protected]
You can also find Khaosod English on Twitter and Facebook
http://twitter.com/KhaosodEnglish
http://www.facebook.com/KhaosodEnglish