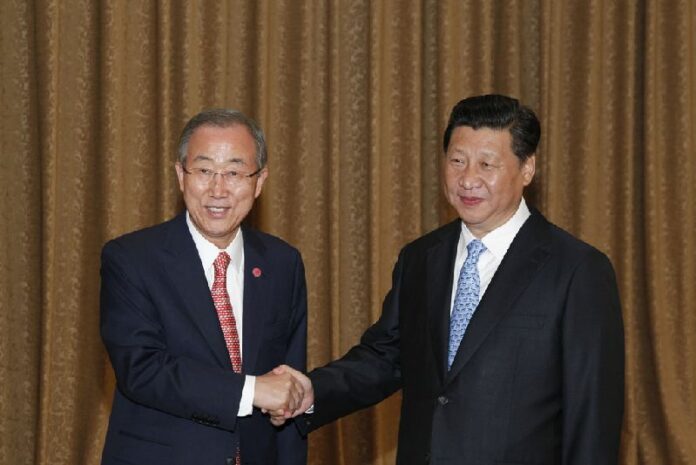 (UN News Center)
16 August 2014 – At a special event on the occasion of the Summer Youth Olympic Games in Nanjing, China, United Nations Secretary-General Ban Ki-moon today urged young people everywhere to get involved and engaged in driving global action at this critical time in history.
"It is easy to lose hope but I always feel motivated and encouraged by the energy of youth. Young people like yourselves," Mr. Ban said at a Nanjing University event hosted by the All-China Youth Federation.
"There are many difficult issues which you have to deal with and I have to deal with, but I need your support and I need your participation and engagement," he added, emphasizing that young people must dedicate themselves to noble ideals.
"My parents taught me to study hard, to work for other people, and work for the public good," recalled the Secretary-General.
While growing up in wartime Korea left the family very poor, "we had something better than gold": the hunger and thirst for education, Mr. Ban said. In 1962, when he was just a teenager Mr. Ban was invited to visit the United States. On that trip, he met President John F. Kennedy.
"I was a high school boy at that time. It was quite an extraordinary honour. At that time, I was thinking, asking myself, what should I do for my country? I thought that because Korea was so poor at that time, I needed to do something for my country's economy and political stability."
Young people today too must deal with harsh problems- war, hunger, poverty and disease. But they mustn't lose hope, Mr. Ban said. Young people must drive global change and be leaders in preventing abuses of human rights and environmental degradation.
"We have just 500 days left to meet the targets of the Millennium Development Goals (MDGs)," Ban said, adding that the "clock will be ticking" until December 2015.
Compared to 1990 some 700 million fewer people worldwide live in conditions of extreme poverty. Six million fewer children die each year from preventable diseases while more than 2.3 billion people have gained access to improved water resources.
China has played an important role in these achievements, Mr. Ban said. The world was able to lift at least half of the extremely poor people out of poverty, many of who live in China, thanks to the country's hard work. But still, millions live in degrading conditions and die from preventable diseases. With the help of young people, these challenges can and will be addressed.
Mr. Ban said he appointed his Youth Envoy, Ahmad Alhendawi, who is just 30 years old and the youngest senior official at the United Nations, because "the world is very young."
"I appointed him because half of the worlds population- 3.5 billion people- are under the age of 25. That means the world is very young. We have to do more for these young people. That is why working for and working with young people is one of the United Nations priorities."
Mr. Ban will open the Youth Olympic Games this evening. At today's youth event, he called sport "a very unique, extraordinary power to bring people together and drive social change." He said he hoped the Games would promote peace and bridge the gap between different ethnicities, religions and traditions- which is what the United Nations Charter aims to achieve.
Earlier today, Mr. Ban met with President Xi Jinping to express his gratitude to China for its strong partnership with the United Nations. The Secretary-General and the President discussed a wide variety of international issues, including the situations in Ukraine; Iraq; Syria; the Middle East, including Gaza; and Northeast Asia, including the Korean Peninsula, as well as the West African Ebola outbreak.
Mr. Ban also commended China's growing role in addressing pressing global issues such as climate change and shaping the future development agenda and for its contributions to the promotion of peace and security and human rights.