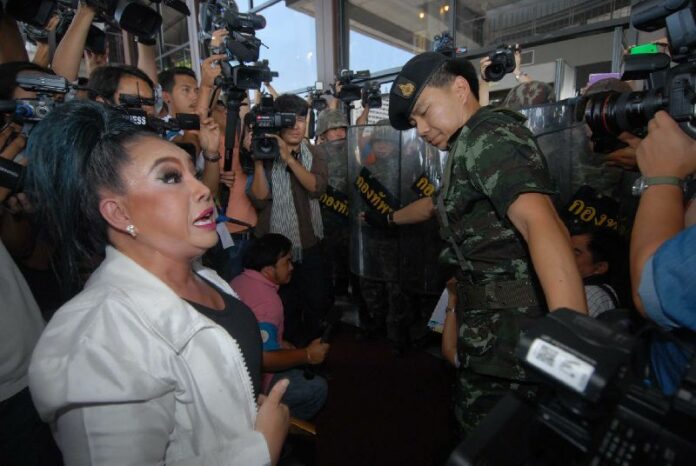 BANGKOK — A well-known critic of the coup whose beauty channel was shut down by the military junta has been barred from applying for a seat in the National Reform Council.
The Election Commission barred Leena Jangjanja from politics for five years today for "misleading the public" when she promised cheap gasoline during her Senate campaign this March. During the election campaign, Ms. Leena promised to lower the prize of benzene from 40 to 20 baht per litre.
EC deputy sec-gen Dusadee Pornsuksawat said today that Ms. Leena deliberately advertised an "unachievable" policy and thereby violated the 2007 Act of Members of Parliament and Senators Election.
Ms. Leena is now banned from politics for five years, effectively disqualifying her from the interim government's National Reform Council (NRC), which she applied for a yesterday. Under the 2014 interim constitution, individuals who have been found guilty of political charges and banned from politics cannot be members of the NRC. The 250-member council will be tasked with implementing widespead national reforms over the next year.
Ms. Leena is notorious for the firebrand comments she made as a celebrity gossip talk-show host on her TV channel, HOT TV. She also owns a beauty product business.
After imposing martial law over Thailand on 20 May, the military shut down Ms. Leena's TV channel, among others, purportedly for their "divisive language." The military launched a coup against the elected government two days later.
Incensed by the junta's shutdown of HOT TV, Ms. Leena staged a bombastic one-person protest at the Army Club, where the junta was based. She has continued to criticise the junta, formally known as the National Council for Peace and Order (NCPO).