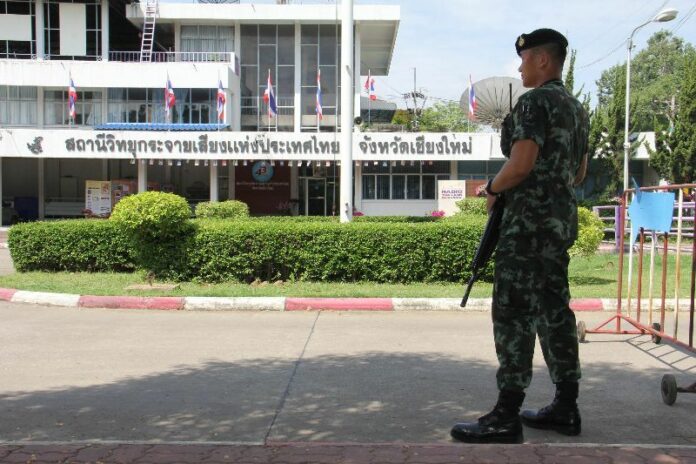 BANGKOK — Thailand's military junta has repealed an order that shut down fourteen satellite TV channels shortly after the army declared nationwide martial law in May.
Yesterday, the junta's National Council for Peace and Order (NCPO) informed Thailand's state media regulator that twelve of the channels can go back on the air, said Thakorn Tantasith, sec-gen of the National Broadcasting and Telecommunication Commission (NBTC). The other two stations were allowed to resume operations June.
"Once the NBTC formally approves the decision, the channels can resume their operation," Mr. Thakorn said.
However, the channels still have to comply with conditions set by the junta, Mr. Thakorn said. The stations are required to "change their names," cooperate with the NCPO's missions, broadcast information that is beneficial to the NCPO's missions, and deliver "accurate" news to the public, the NBTC sec-gen explained.
"They cannot broadcast news that distorts the truth or causes misunderstanding, which may affect the peace and order of society," Mr. Thakorn said. "They also have to broadcast programs aimed at achieving national reconciliation."
Most of the channels shut down by the NCPO were openly affiliated with either the Redshirt or Yellowshirt political camps, such as the pro-Red Asia Update and the pro-Yellow ASTV channels. The stations were responsible for airing live broadcasts of the rallies staged by their respective political factions.
When army chief Gen. Prayuth Chan-ocha imposed martial law on 20 May, he ordered the 14 channels to shut down, claiming that their partisan nature and "hateful speeches" threatened peace and order. Gen. Prayuth seized power in a military coup two days afterwards.
Since staging the coup on 22 May, the junta has tightly controlled the state media and exercised a degree of censorship over private media.
For comments, or corrections to this article please contact: [email protected]
You can also find Khaosod English on Twitter and Facebook
http://twitter.com/KhaosodEnglish
http://www.facebook.com/KhaosodEnglish