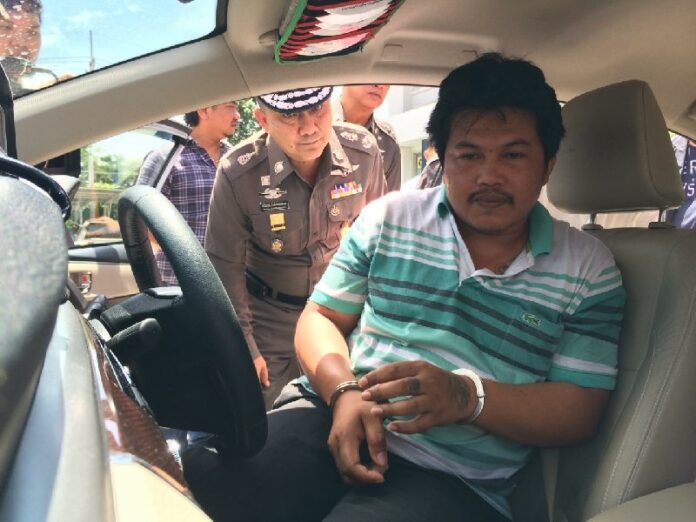 BANGKOK — Police say they have arrested the taxi driver who allegedly assaulted and robbed a Chinese tourist on her way to the airport last week.
Somphot Krutpheuk, 32, was arrested at his apartment in Taling Chan district yesterday and has been charged with robbery using a vehicle. The offence carries a maximum penalty of ten years in jail.
At a police press conference yesterday, Mr. Somphot confessed to picking up a Chinese passenger from Chulalongkorn University on 21 August and charging her 1,500 baht for a trip to Don Mueang Airport, a fare far above the regular price charged by metered taxis.
The taxi driver also confessed to parking the car in a secluded area near the Motorway in Bangkok's suburbs and repeatedly punching the Chinese tourist in the stomach in an attempt to rob her, confirming what the tourist told police last week.
Mr. Somphot said he drove away with the tourist's belongings after she fled the car in terror. She had left 3,000 baht in cash, air plane tickets, and clothes inside the vehicle. He said he used all the money for "alcohol and gambling."
Mr. Somphot told police he committed the crime because he was poor and desperately needed the money. Mr. Somphot also offered his apology to all Thais for damaging the Kingdom's reputation.
Police records say Mr. Somphot was previously arrested in Pathum Thani province in 1999 for a narcotics-related offence and later sentenced to a year and half in prison.
After he was released from jail, Mr. Somphot was arrested again in 2013 for allegedly gambling inside a Buddhist temple.
There have been several criminal incidents involving taxi drivers in the past month. Two days ago, a taxi driver reportedly attempted to punch an American journalist after he tried to record the cab's information when the driver refused to use a meter. Earlier this month, a taxi driver allegedly robbed two American passengers with a fake handgun. He was later arrested on the same day.